Officers Allen Moore, Wilson Pringle and Melvin Howe were honored Friday morning, as they are each year.
The three men were officers of the Lawrence Police Department who died in the line of duty, and on Friday morning Lawrence police gathered with city officials to remember them in honor of National Police Week.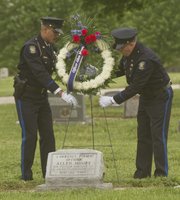 The three fallen Lawrence officers died many decades ago: Moore in 1901 at a train depot in North Lawrence; Pringle, shot while trying to stop a robbery in 1909; and Howe, killed during a traffic stop in 1931. The police visited their grave sites in North Lawrence and at Oak Hill Cemetery Friday morning to lay wreaths on their graves.
Lawrence Police Chief Tarik Khatib said that those men also stood for the many police around the country who die while on the job each year. Notable among those were two Topeka police officers who were shot and killed in December near a Dillons grocery store.
Mayor Mike Dever, joined by Vice Mayor Mike Amyx, and City Commissioner Bob Schumm, also attended the ceremony and thanked the police for the risks they run and the sacrifices they make every day.
Paul Taylor, a Lawrence pastor and volunteer police chaplain, led a prayer before the gathered officers went to pay respects to their fallen comrades. "Every officer knows this is a possibility," he said. "But I ask for grace, mercy and protection."
Copyright 2017 The Lawrence Journal-World. All rights reserved. This material may not be published, broadcast, rewritten or redistributed. We strive to uphold our values for every story published.