Photo Gallery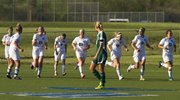 Free State girls soccer vs. Washburn Rural
Topeka — Long after the final horn sounded, and even longer since Washburn Rural High's girls soccer team took control in the second half to win a Class 6A regional championship, 4-1, Free State's players embraced near midfield and wept, refusing to accept the finality of their season.
The Firebirds played with far more energy than the Blues in the first half, taking a 1-0 lead on the same WRHS field where, a year ago, they won the program's first regional title.
But Washburn Rural moved on to the state quarterfinals by riding the wave created by two incredible cracks in the first seven minutes of the second half. WRHS senior Kelly Sutton tied the game at 1 in the 45th minute by smashing a shot from about 25 yards out over the hands of FSHS goalkeeper Annie Hierl. Less than three minutes later, from almost the exact spot on the right side, Rural senior Meghan Keller sent a free kick into the back of the net.
Senior FSHS defender Rylee Fuerst couldn't deny the power nor placement on the shots or the quality of the two goals that would come later, but there was regret on Free State's behalf, too.
"We could've stepped to them better," Fuerst said. "We always could've done something better to stop them and they got some great shots. You can't take that away from them."
Though Rural (14-3) didn't score again until the 72nd minute, when Braydi Frederick set up Darby Hirsch for a goal, Firebirds coach Kelly Barah said the quick second-half response from the Blues changed the complexion of the game.
"That second goal kind of took us by surprise," Barah said. "We knew coming in they had some really strong girls who could hit the ball, and that's what happened a whole lot."
Free State junior forward Maren Kahler, whose corner kick in the 19th minute was headed across the goal line by Jessica Ferguson, said the early success made the loss of a regional title sting that much more.
"I feel like we were all blindsided," Kahler said. "We weren't expecting this outcome at all. It just hurts so bad."
The two-goal deficit didn't keep the Firebirds (10-7) from fighting. Allix Ice, Ferguson and Maddie Dieker all found chances to shoot but couldn't connect. For the game, FSHS just put seven of its 14 shots on goal, and Rural keeper Sarah Fritz saved six of them. The Blues, meanwhile, found better production, with 15 shots on goal in 19 tries. Hierl saved 10.
Even in desperation mode, more than 75 minutes into the final, Free State didn't give up. With less than four minutes left, freshman Tori Karlin rebounded a Madeline Caywood shot and appeared to cut the Rural lead to one with a shot past Fritz, but Karlin was called offside.
Less than two minutes later, Abbey Casady was called offside on a promising attack up the middle by Fuerst.
Then, in the 80th minute, Rural padded its already-safe lead, courtesy of a successful penalty kick by senior Charly Michaelis.
With that, Free State's season ended, as did the careers of seniors Abbey and Chelsea Casady, Caywood and Fuerst.
Barah choked up while talking about the four seniors: "I don't think I have words to describe what they've meant to us and who they truly are as individuals."
Kahler, one of 15 juniors on the FSHS roster, said the small group of seniors, who rarely left the field, meant "so much" to their teammates.
"They kept our heads up during every game, and they tried their hardest," Kahler said. "They put their heart into the game and that really influenced us a lot."
Copyright 2018 The Lawrence Journal-World. All rights reserved. This material may not be published, broadcast, rewritten or redistributed. We strive to uphold our values for every story published.