Photo Gallery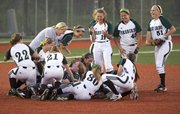 Free State softball regional
In her four seasons of playing softball for Free State High, senior shortstop A'Liyah Rogers often has made the spectacular seem routine with her defensive range and diving snags.
All those plays might seem like a blur in her mind, but now she has one to trump them all. Rogers plunged to her right, with two outs in the top of the seventh Wednesday night to rob Olathe Northwest leadoff hitter Kelsey Wright of a line-drive single. When Rogers, the Firebirds' shortstop, picked herself up off the FSHS turf, she saw her entire team rushing her direction to celebrate a 4-0 victory and a Class 6A regional championship.
Rogers, Free State's leadoff hitter, hadn't been herself at the plate in her team's two playoff victories.
The Firebirds beat Junction City, 11-1, in five innings in a semifinal.
Rogers' 0-for-7 day didn't matter much once Free State (19-3) won the regional title game and advanced to the state tournament for the first time since 2007.
"Oh my god, we're finally going," Rogers said of the thoughts racing through her head as the game ended. "We're there. We made it. We've come so far."
Through a jumble of ecstatic FSHS players, Rogers and fellow senior Courtney Parker picked each other out and hugged between second and third base as teammates went wild around them.
Parker, who blasted a three-run homer against JCHS and went 1-for-3 with an RBI against ONW, said the two have been playing on varsity since they were freshmen, so they wanted to share the moment.
"It's nice to come this far together," Parker said, fighting tears, "and be there at the end and meet our goals."
The Ravens (15-7) threatened to score early, with three singles in the top of the first. But Parker caught Wright stealing, and junior pitcher Meredith Morris got Elizabeth Stover to pop up and end the inning with runners on second and third. Later, ONW stranded Wright after a leadoff triple in the top of the third. In the fourth, Morris got out of another jam, with two runners on base and one out.
Free State coach Lee Ice always tells Morris and Kaley Delg (winning pitcher in the semifinal) they shouldn't be afraid to throw to contact, with third baseman Emily Byers, Rogers, second baseman Lily Ross, first baseman Whitney Rothwell, left fielder Remington Samuels, center fielder Emily Bermel and right fielder Kylie Cobb behind them.
"She has help. She knows it," Ice said of Morris. "She doesn't have to do it by herself."
After her complete-game win, Morris said she escaped difficult situations by staying calm early. Once Free State took a 2-0 lead in the fourth and added two more in the fifth, she zoned in even more. Morris finished the game by retiring ONW in order in the fifth, sixth and seventh innings.
"It helped the mood," she said of the Firebirds breaking open a scoreless game, "and we definitely used that as momentum. Hopefully it will happen at state, too."
Byers led off the bottom of the fourth with a single, and pinch runner Courtney Elston scored the game's first run when a ground ball to shortstop by Whitney Rothwell ended up in right field on a throwing error. Then Parker made it 2-0 with a single down the left-field line.
In the fifth, Cobb led off with a single to right against a drawn-in infield that expected her to bunt. She eventually scored on a two-out single from Byers. After a Rothwell single kept the inning going, Byers gave FSHS a 4-0 lead by scoring on another Ravens error.
Said Parker of going to state: "I haven't really processed it. It's been our goal this whole time. I'm glad we reached it. It's an awesome feeling."
Free State 4, Olathe NW 0
Olathe Northwest 000 000 0 — 0 6 2
Free State 000 220 x — 4 9 0
W — Meredith Morris (13-1). L — Chandler Elsner.
2B — Mikayla Warren, Olathe NW. 3B —Kelsey Wright, Olathe NW.
Free State highlights — Morris 7 IP, 6 H, BB, 2 K; Kylie Cobb 3-for-3, R; Emily Byers 2-for-3, RBI, R; Courtney Parker 1-for-3, RBI; Whitney Rothwell 1-for-3; Lily Ross, 1-for-3; Emily Bermel 1-for-3.
Free State 11, Junction City 1, 5 innings
Junction City 010 00 — 1 3 3
Free State 171 2x — 11 9 1
W — Kaley Delg (6-2). L — Katie Hollibaugh.
2B — Kori Kamm, Junction City; Morris, Free State. HR — Parker, Free State
Free State highlights — Delg 5 IP, 3 H, 2 K, 0 BB; Parker 2-for-3, 4 RBI; Rothwell 2-for-2, 2 RBI; Ross 2-for-3, 2 R; Bermel 1-for-3; Cobb, 1-for-2, RBI; Morris 1-for-2, R; Byers 0-for-1, 2 RBI, R.
Copyright 2018 The Lawrence Journal-World. All rights reserved. This material may not be published, broadcast, rewritten or redistributed. We strive to uphold our values for every story published.