Photo Gallery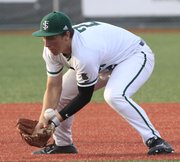 Free State baseball regional
Free State High senior first baseman Jacob Caldwell found it tough to explain what had just happened to the top-seeded Firebirds following a 10-0, run-rule-shortened regional baseball loss to fourth-seeded Olathe Northwest on Wednesday at Free State.
FSHS had entered the postseason with a 17-3 record and the No. 1 ranking in Class 6A.
"We've never been blown out like that in a game all season. For it to be in the most important game is just shocking," Caldwell said. "We all thought we were ready, but we just didn't bring it today."
The Firebirds, who hadn't lost a game by more than three runs all year, struggled in all aspects during the regional final that lasted just six innings.
Free State had four errors, mustered just two singles and also allowed 13 Northwest hits.
"Every high school team has a game where nothing you do goes right," Hill said. "Ours just happened to be in the regional championship game."
Northwest — a team that finished second in the Sunflower League behind Free State — broke through for three in the third, combining three singles, a walk and an error.
The Ravens chipped away for two more in the fifth off Firebirds ace Dane McCullough, who entered with a 7-0 record.
"I didn't feel like myself out there," McCullough said. "My pitches were working all right — not as good as they usually are. It's just disappointing."
Northwest (14-8) added five more runs in the sixth off reliever Sam Hearnen.
Meanwhile, Free State's offense couldn't get anything going against Northwest starter Shane Hummel.
"He had some good off-speed stuff, and he complemented it with his fastball," Caldwell said. "It made it really tough to hit off him."
Free State's best chance to score was in the bottom of the fourth. Trailing 3-0 with the bases loaded and one out, FSHS third baseman Cameron Pope hit a grounder right to shortstop Austin Hansen, who started a double play to end the inning.
"I thought Cam struck it pretty good; darn it, he just hit it right to somebody," Hill said. "To their credit, they turned the double play. That was a tough one there."
Cooper Karlin and Hearnen had the only two hits for Free State (18-4).
The loss was the final game for seven FSHS seniors: Anthony Miele, Caldwell, Tommy Oswald, McCullough, John Fellers, Hearnen and Lee McMahon.
"Nobody thought we would come out and get 18 wins and only four losses," McCullough said. "We're proud of ourselves, but we're also disappointed because we can't go to the state tournament."
Even with the loss, Free State completed one of the best seasons in school history. The Firebirds tied the school record for regular-season victories (17) and held the No. 1 6A ranking in the state for most of the year.
"The kids were terrific all year long," Hill said. "To do what they did was unbelievable and a credit to them and their hard work."
Free State easily defeated eighth-seeded Wyandotte, 15-0, in a first-round game that lasted just 21⁄2 innings.
Free State 15, K.C. Wyandotte 0
K.C. Wyandotte 000 — 0 0 6
Free State 78x — 15 10 0
W — Ryan Cantrell, 3-1. L — Matthew Stark.
2B — Cameron Pope 2, FSHS. 3B — Jacob Caldwell, FSHS; Lee McMahon, FSHS; Tommy Oswald, FSHS. HR — Jacob Caldwell, FSHS.
Free State highlights — Jacob Caldwell 2-for-2, HR, 3B, 3R, 2 RBIs; Cameron Pope 2-for-2, 2 2B, 2R, 2 RBIs; Tommy Oswald 1-for-1, 3B, R, 2 RBIs; Lee McMahon 2-for-2, 3B, SB, 2R; Ryan Cantrell CG, 0H, 3BB, 3K.
Olathe Northwest 10, Free State 0
Olathe Northwest 003 025 — 10 13 2
Free State 000 000 — 0 2 4
W — Shane Hummel. L — Dane McCullough.
2B — Austin Hansen, ONW; Lucas Knight, ONW.
Free State highlights — Cooper Karlin 1-for-3; Sam Hearnen 1-for-2.
Copyright 2018 The Lawrence Journal-World. All rights reserved. This material may not be published, broadcast, rewritten or redistributed. We strive to uphold our values for every story published.