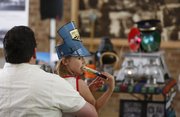 For some, the sound of a train whistle has always meant adventure, opportunity and freedom. It still means that to railroad enthusiasts in Lawrence, who said Saturday that they aren't ready for the day when the train leaves Lawrence and never comes back.
More than 100 people gathered Saturday at the Santa Fe Depot in East Lawrence to celebrate National Train Day, the anniversary of the 1869 completion of the transcontinental railroad. Railroad historian Dave Calwell, of Topeka, told stories from his 34-year career working in trains, and two lucky visitors won round-trip tickets to either Chicago or St. Louis.
The event was hosted by Amtrak and Depot Redux, a volunteer group in Lawrence that has worked to improve the station and advocates for the city to take it over from BNSF Railway Co. The group hopes the city of Lawrence will eventually buy the 57-year-old depot so it can qualify for federal grants that could pay for improvements.
"We want to get people recharged to bring back awareness and the time is now," Maynard-Moody said.
Calwell, the historian, said he still travels the country by rail — as a retired railroad worker, he has a free pass — and urged Lawrence residents to preserve their own piece of railroad history.
"We don't want to take a chance at losing this station," he said. "In other places, you lose the station, you lose the freight. Then you lose the passengers, the business and the trains."
City officials have said in the past that they have not yet found a public use for the station that would allow the local government to take it over from BNSF. Amtrak also uses the station.
"With deep pockets, I think the city could do more," Lawrence Mayor Mike Dever told the assembled group on Saturday. The recent economic downturn, he said, had stalled some plans to improve the East Lawrence landmark with bike paths and other amenities. Some of those ideas were still in the works, he said.
"There's lots of talk, but I hope we can actually do some of this in the future," Dever said.
Copyright 2018 The Lawrence Journal-World. All rights reserved. This material may not be published, broadcast, rewritten or redistributed. We strive to uphold our values for every story published.