The choice to come lead the Kansas University School of Engineering wasn't a tough one, Michael Branicky said Thursday. And he should know.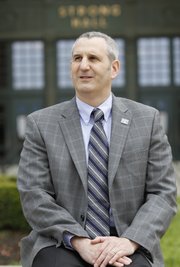 "In my field, there's things called decision trees that enable you to figure out exactly what's the best thing to do at any time. In this case, it was a very easy decision," said Branicky, a specialist in robotics and control systems who will become KU's new engineering dean July 1.
Branicky, a professor and department chairman at Case Western Reserve University in Cleveland, on Thursday made his first appearance at KU since he was announced as the next engineering dean in February. He spoke briefly at an annual School of Engineering banquet to honor distinguished alumni, where he received a "great big Kansas welcome" from the 150 or so alumni, current and retired faculty and others present at the direction of interim Dean Stan Rolfe.
Branicky told them his choice to come to KU was a no-brainer, considering the state of the school, which is expanding rapidly in the areas of facilities, faculty and students.
"Our program here is not just growing," Branicky said. "It is thriving." He showed he's already learned a way to enliven a room at KU — with a "Rock Chalk Jayhawk" call and response — though he won't officially take over for about two more months.
That's when Rolfe, a faculty member in the school for 43 years, will step back down after a year overseeing the school. Rolfe had actually begun a phased retirement before he was approached to lead the school as KU searched to replace Stuart Bell, who left to become provost at Louisiana State University.
"It wasn't what I figured on in retirement," Rolfe said with a laugh earlier this week.
And this wasn't just any year for the engineering school. Rolfe has overseen the opening of a new $23.6 million research building, the groundbreaking for another $80 million education building, 16 faculty position searches and a once-every-six-years national accreditation review, all as the school grows its enrollment and faculty with orders from the state to produce more engineers.
The experience of leading the school during such a busy time, when he'd expected to start winding his career down, was a bit like his daily morning jog, he said.
"There's not much joy while I'm jogging," Rolfe said, "but there's a great deal of satisfaction when I'm done."
Now Rolfe will resume his plan to phase out his research and teaching, with an eye on retiring fully in the next year or two. And he believes Branicky, who's already in constant contact with the school's other leaders, will move things forward.
"As far as the goals and directions, I think Michael will not only take those but actually improve those," Rolfe said.
Don Green, a distinguished professor emeritus in attendance at Thursday's banquet, agreed. Everyone he'd spoken with who'd interacted with Branicky so far had come away impressed, he said.
"Everything I've heard about him is very, very positive," Green said.
At the banquet Thursday, Branicky and Rolfe helped recognize three KU engineering alumni with the school's Distinguished Engineering Service Award: Harold Finch, a former Apollo space program engineer, leader at Johnson County Community College and philanthropist whose life is the basis for a to-be-released film starring former U.S. Sen. Fred Thompson; Tom Jones, a former executive for two medical-device companies; and Jim Remsberg, a petroleum engineering executive.
Copyright 2018 The Lawrence Journal-World. All rights reserved. This material may not be published, broadcast, rewritten or redistributed. We strive to uphold our values for every story published.