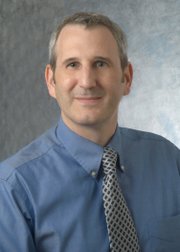 Contact KU and higher ed reporter Sara Shepherd
Have a tip or story idea?
---
More stories
Kansas University has announced the new leader for its growing School of Engineering: Michael Branicky, a professor and department chairman at Case Western Reserve University in Cleveland.
Branicky, who leads CWRU's electrical engineering and computer science department, will become KU's dean of engineering July 1. KU announced his hiring Wednesday afternoon.
A Cleveland native, Branicky joined the CWRU faculty in 1996 and became department chairman in 2010. He earned bachelor's and master's degrees from CWRU and a doctorate in electrical engineering and computer science from the Massachusetts Institute of Technology.
From 2008 to 2010, he was a program director for the National Science Foundation. He led a group that funded research on cyber-physical systems — the combination of computer processors and mechanical systems such as cars and airplanes.
KU Provost Jeff Vitter said Branicky's experience with the NSF was important, as KU is focused on conducting more innovative research.
"He's seen the whole process of grant funding from all sides," Vitter said, "and that's a very valuable insight as we really strive to greatly increase our research funding."
Branicky, 48, has published more than 100 articles in journals and at conferences, and he has helped to attract more than $7 million in external research funding.
Vitter said he has the energy and vision to guide the School of Engineering as it aims to increase its enrollment by 60 percent from where it was during the latter half of last decade.
"This is probably the most exciting time in the history of the school," said Vitter, who is also a distinguished professor of electrical engineering and computer science in the School of Engineering.
Branicky will take the helm of the School of Engineering at a time of rapid growth, bolstered by state funds intended to produce more engineers for Kansas. The school broke ground in the fall on an $80 million expansion, to be funded partly by $35 million from the state. Also during the fall, the school dedicated its new Measurement, Materials and Sustainable Environment Center.
The school enrolled a record 2,151 undergraduate students in fall 2012, and its freshman class grew by 22 percent from the year before. KU plans to use revenue from the school's growing enrollment to fill 30 new engineering faculty positions — nearly half of the 64 new jobs KU has opened in its first wide-scale faculty hiring effort in years.
Branicky said in a phone interview Wednesday that it's a great time to step in as the school's leader, as it expands its facilities, its enrollment and its faculty.
"That makes it very exciting to join," he said.
Branicky was the first of three finalists for the dean position to visit campus and appear at public forums in November. He said he thought the people he met at KU during his visit would be a great group to work with.
"I was very impressed with the campus, the new facilities, the faculty and students that I met," Branicky said.
Branicky will be paid a salary of $280,000 as dean.
He said he'd like to help the school continue to grow and become a national leader.
Vitter said he believed Branicky could boost the school's research and its education, spurring economic growth in Kansas and the nation.
"We are in an environment where there is a crucial need for engineers," Vitter said, "and it's our obligation to provide the utmost high-quality graduates with the skills to develop industries that will bring long-term economic stability."
Branicky's research interests are in the area of systems and control — how mechanisms such as a thermostat in a house or autopilot in an airplane control larger systems —as well as robotics. Vitter said his background could help foster research among different disciplines at KU, at a time when more and more research involves sophisticated computing.
Ken Audus, dean of the KU School of Pharmacy, led a KU search committee to find a new dean after Stuart Bell announced his departure last year. An outside firm, Baker and Associates of Marietta, Ga., also assisted with the search, at a cost of $99,000.
Branicky will replace Bell, who left KU in August 2012 to become provost and executive vice chancellor at Louisiana State University after 10 years as engineering dean. Stan Rolfe, a distinguished professor in the civil, environmental and architectural engineering department, has served as interim dean since Bell's departure and will continue in the position until Branicky arrives.
KU will also be hiring Branicky's wife, Danielle Olds, Vitter said. Olds, a postdoctoral fellow at the Louis Stokes Cleveland Veterans Affairs Medical Center with a Ph.D. in nursing from the University of Pennsylvania, will become an assistant research professor at the KU Medical Center.
Copyright 2018 The Lawrence Journal-World. All rights reserved. This material may not be published, broadcast, rewritten or redistributed. We strive to uphold our values for every story published.