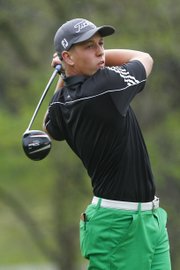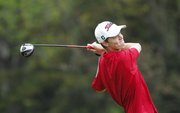 Asked about shooting a 47 on the back nine, Free State High's Alex Green cracked a smile, saying he switched grips and also had decided to shoot his final shots left-handed.
He was joking, of course, but that didn't stop him from believing he'd let an opportunity slip away when he fired an 86 at Alvamar Public Golf Course during Wednesday's Lawrence Invitational.
"It was just one of those days," Green said. "Golf is golf, and you just move on from it."
Green was one of a few city competitors left disappointed after playing on his home course.
Alvamar served as the third and final leg for the Sunflower League Tournament, and coming in Green had positioned himself to be in the running for a top-six finish, which would have earned him all-league honors.
Instead, the senior settled for second-team honors and an eighth-place finish (241 three-day total) after an inconsistent round that included a pair of triple bogeys on the back nine.
"It was just brutal out there," Green said. "I couldn't find a rhythm with anything."
Green was joined on the all-league second-team by teammate Wilson Hack, who led the Firebirds on Wednesday by shooting an 8-over-par 80. His three-day total of 244 was good for 12th.
"I've had a couple better tournaments that I wish would have counted for league," Hack said. "But second team … I'm not going to complain about that."
The senior had a nice recovery on the first hole after yanking his drive to the right. Following a 40-yard pitch on his third shot, he was able to hole the putt to save par.
His biggest disappointment, though, came on short putts, where he later gave a few strokes back.
"Once you see the first 16-inch putt not go in, the next one you have, you're like, 'Uh, I don't know about this one,'" Hack said. "Then you just start playing mind games with yourself. The next thing you know, you've missed four of them."
Lawrence High's Rito Mendez just missed on all-league honors, but he still posted the best city score Wednesday with a seven-over 79.
Mendez shot an even-par 36 on the front nine with seven pars, a birdie and bogey.
"I wasn't hitting the ball great, but I grinded out for pars," Mendez said. "I just made a lot of putts — important ones."
His best hole was the par-5 eighth, where he was able to drive the green in two before two-putting for a birdie.
Free State's Jack Flynn (83) and Lawrence's Cole Cummins (84) also posted top-two finishes for their respective teams.
After entering Wednesday's tournament in third place, Free State dropped to fourth in the final Sunflower League team standings with a three-day team score of 992. LHS finished sixth with a 1,020.
For the 24-team Lawrence Invitational, LHS was 10th (335), while Free State was 11th (339).
Both teams will return to Alvamar on Monday for regionals.
"We play out here every day. We're ready for Monday," Mendez said. "We just didn't play well today."
The top finishers at regionals advance to the 6A state tournament on May 20 at Meadowbrook Country Club in Prairie Village.
"The Sunflower League standings are a big deal, but regionals is what really matters," Hack said. "Hopefully, we can all come together as a team and play well."
Team scores — SM East 297, Washburn Rural 297, Blue Valley West 305, Shawnee Mission Northwest 309, Manhattan 317, Olathe East 319, Blue Valley North 319, Olathe South 330, Blue Valley Northwest 331, Lawrence 335, Free State 339, Blue Valley 340, KC-Aquinas 343, Olathe Northwest 345, Blue Valley Southwest 352, Shawnee Mission West 352, Shawnee Mission South 360, Topeka High 361, Topeka West 365, Olathe North 371, Junction City 388, Shawnee Heights 396, Gardner-Edgerton 398, Leavenworth 439.
LHS Individual Results
T23. Rito Mendez 36-43 — 79; T45. Cole Cummins 40-44 — 84; T51. Brett Van Blaricum 42-43 — 85; T66. Brad Strauss 42-45 — 87; T91. Tucker Sutter 47-45 — 92; T114. Braxton Olson 48-51 — 99.
FSHS Individual Results
T25. Wilson Hack 40-40 — 80; T37. Jack Flynn 40-43 — 83; T60. Alex Green 39-47 — 86; Colton Steele 42-48 — 90; T91. Hunter Dedloff 49-43 — 92; T97. Matt Siler 48-45 — 93.
Sunflower League championship results (combination of three tournaments)
Team scores — Shawnee Mission East 880, Olathe East 970, Shawnee Mission Northwest 972, Free State 992, Olathe South 1017, Lawrence 1020, Olathe Northwest 1024, Shawnee Mission South 1049, Shawnee Mission West 1067, Olathe North 1135, Leavenworth 1281.
City results — 8. Alex Green, FSHS, 241; 12. Wilson Hack, FSHS, 244; 19. Cole Cummins, LHS, 250; 20. Rito Mendez, LHS, 251; T21. Jack Flynn, FSHS, 253; 27. Brett Van Blaricum, LHS, 258; 29. Hunter Dedloff, FSHS, 260; 33. Brad Strauss, LHS, 269; 41. Matt Siler, FSHS, 277; T42. Tucker Sutter, LHS, 278.
Copyright 2018 The Lawrence Journal-World. All rights reserved. This material may not be published, broadcast, rewritten or redistributed. We strive to uphold our values for every story published.