Photo Gallery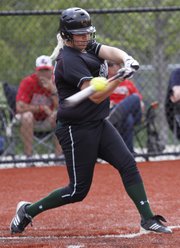 Firebirds defeat Lions in softball
The Free State Firebirds defeated the Lawrence Lions softball team 7-4 Wednesday night at LHS.
Before Free State High softball leadoff hitter A'Liyah Rogers goes to bat, she usually has some advice for No. 2 hitter Emily Bermel.
"If I don't get on, you have to get on," the senior shortstop will tell the sophomore center fielder.
Or: "If I get on, get me over."
The Firebirds' first two batters reached base in seven of their eight combined plate appearances Wednesday night at Lawrence High. In the top of the sixth inning, Kylie Cobb, Rogers and Bermel all scored to bust open what had been a tie game, and the Firebirds won the City Showdown, 7-4.
The Lions (6-12) had matched their rivals for five innings before Free State's sophomore nine-hole hitter, Cobb, drew a leadoff walk against LHS relief pitcher Megan Sumonja in the sixth. Cobb moved on to second base on a wild pitch, then scored — breaking a 4-all tie — when Rogers hit a grounder to second base and Kenzie Garvin's throw went high over first baseman Kristen Gile's glove.
Bermel singled, and soon FSHS (17-3) had its top two hitters in scoring position. Though Sumonja struck out Emily Byers, Rogers made it home on a wild pitch to Whitney Rothwell for a 6-4 Firebirds lead. Then Rothwell plated Bermel on a groundout.
LHS coach Nick Wood almost couldn't believe Free State manufactured three runs on one hit to take control, but a couple of LHS mistakes made it possible.
"They're too good of a team," Wood said. "The margin of error is not there for us to get away with that kind of stuff."
Free State coach Lee Ice said the second rivalry game this week reminded him of Monday's 12-5 FSHS win, because Lawrence had answers for the Firebirds until a mistake came back to bite the Lions. Except this time, Ice said, Lawrence didn't allow the game to get out of hand.
Rogers and Bermel each went 3-for-4 in Free State's regular-season finale, and Ice wasn't surprised to see them contribute to the game-changing sixth.
"They have a tendency to find ways to get on base," Ice said, "and then we scratch across some runs with not very many hits."
Lawrence tried to respond in the bottom of the sixth with a rally. Jolona Shield led off with a walk, and after FSHS relief pitcher Meredith Morris struck out Trisha Bell, Garvin beat out FSHS third baseman Byers' throw for an infield single.
The Lions had the heart of their order coming up with runners on first and second, but Morris coaxed Marly Carmona into a ground ball to second baseman Lily Ross. She swiftly flipped it to Rogers, who turned a double play with a throw to first.
Wood told the Lions they had competed Monday against their rivals, but it wasn't enough to win. In the rematch, they thought they might pull off the upset.
Free State took a 1-0 lead in the first when Rogers scored on an error, but Andrea Mills tied the game in the bottom of the second by smashing a solo home run to left field.
When the Firebirds took a 3-1 lead on a Rothwell single in the top of the third, LHS made it 3-2 in the bottom of the inning as Garvin scored on a fielder's choice.
Bermel followed a Rogers double with an RBI triple in the fourth, making it 4-2. Then, the next half inning, Lawrence's Lillie Huckaby pinch hit for an RBI sacrifice fly, and Garvin tied the game at 4 with an infield single.
Said Garvin, who went 4-for-4: "We came up to bat, and we battled and didn't give up. That was really good."
Though LHS never led, Wood couldn't feel too poorly about how the Lions stuck with one of the state's top teams for five innings.
"We made a few too many mistakes to win the game," Wood said, "but those girls competed really hard and gave ourselves a chance."
Free State is idle until next week, when it will play host to a regional as a No. 2 seed.
Lawrence finishes its regular season at home Friday against Shawnee Mission North.
Free State 102 103 0 — 7 11 1
Lawrence 011 200 0 — 4 10 2
W — Meredith Morris (12-1). L — Megan Sumonja (6-9).
2B — A'Liyah Rogers, Free State. 3B — Emily Bermel, Free State. HR — Andrea Mills, Lawrence.
Free State highlights — Bermel, 3-for-4, RBI, 2 R; Rogers, 3-for-4, 4 R, SB; Courtney Parker, 2-for-4; Whitney Rothwell, 1-for-4, 3 RBI.
Lawrence highlights — Kenzie Garvin, 4-for-4, RBI, R; Katie Murrish, 2-for-4, R; Sami Buffalomeat, 2-for-4, R.
Copyright 2018 The Lawrence Journal-World. All rights reserved. This material may not be published, broadcast, rewritten or redistributed. We strive to uphold our values for every story published.