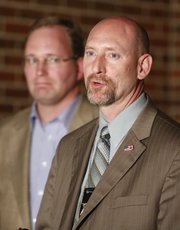 Ottawa — Franklin County law enforcement officials are investigating a double homicide after the discovery of two bodies Monday at a rural home near Ottawa.
Ottawa residents Corey Schlotzhauer, Kortni McGill and Shona Osladil said Monday night that they went to the home in the 3100 block of Georgia Road to feed some animals early Monday afternoon when they found a dead body wrapped in a blue tarp in the garage, with a cinder block on top of it.
Osladil said she believed the body was that of a 22-year-old woman with whom she'd attended school in Ottawa. The woman was a friend of a man who lived in the house, Osladil said.
Police, called to investigate, found a second body Monday afternoon.
Law enforcement officers would not release any identifying information about the victims, and it was not known how the victims might be related to each other or to the property owners. The property is located about five miles west of Ottawa along Kansas Highway 68, about 20 miles south of Lawrence.
The house is owned by Jackson and Karon Anderson, according to Franklin County property records. Over the past couple of days, Jackson Anderson has been posting questions to Facebook about the whereabouts of his brother, saying that he had been missing since Thursday.
On Monday morning, Anderson posted: "If someone has seen my brother please say something I am losing sleep over this. Someone has to know!" About 8 p.m. Monday night, Anderson posted: "Just got word about my brother." Anderson could not be reached for comment.
Schlotzhauer and Osladil said they had not heard from the residents of the home since Thursday. They said they had visited the home on Sunday and thought something smelled odd. They said they called the police at that time, but the police didn't find anything out of the ordinary.
Franklin County Sheriff Jeff Richards said at a news conference Monday night that deputies were called to the scene after the body was found. Ottawa police were then called and officers secured the property while a search warrant was obtained. The Kansas Highway Patrol assisted with the search.
Franklin County officers are asking for assistance from investigators in Johnson County, and the Kansas City Major Case Squad will be activated on Tuesday to help with the investigation.
Anyone with any information on the case is asked to call 888-311-TIPS or send a text message to 274637 with the keyword Franklin.
Copyright 2017 The Lawrence Journal-World. All rights reserved. This material may not be published, broadcast, rewritten or redistributed. We strive to uphold our values for every story published.