There are so many ways for a young pitcher's career to end, even one blessed with high velocity and strong desire. Shoulder surgeries. Elbow blowouts. Pitches that don't move enough. Too narrow a repertoire. It's so difficult to survive and advance in a game that requires constant improvement.
Three left-handers — Garrett Cleavinger, Cody Kukuk and Albert Minnis —who pitched for high schools in Lawrence are not just surviving, they're thriving in the early steps on a road they hope leads to their shared dream of a major-league career.
A school year ago, Cleavinger was catching passes for the Lawrence High football team and sending hitters back to the dugout for the baseball squad. It certainly didn't take him long to make the transition to big-time college baseball.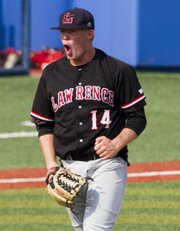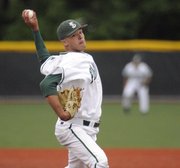 Coming out of the bullpen for the University of Oregon in the competitive Pac-12 Conference, Cleavinger has a 4-0 record and 1.30 ERA with 35 strikeouts in 27-2/3 innings and is limiting hitters to a .120 batting average. He's so difficult to hit that his occasional bouts of wildness (16 walks, eight wild pitches) haven't haunted him.
Minnis, a fellow former lefty Chesty Lion at the opposite end of his college career, is doing quality work in relief for Wichita State. He threw 4-1/3 no-hit innings against Kansas Tuesday night in a 1-0, 11-inning loss at Hoglund Ballpark.
Heading into the weekend, Minnis had limited the opposition to a .226 batting average and has more strikeouts than innings pitched. Tyler Baker, the Shockers' catcher who became a hit with The Hog crowd when he so humanely treated a squirrel who darted onto the field, has the best vantage point on Minnis' pitches.
"His fastball moves, I couldn't tell you how much. A lot," Baker said. "And it just drops off the table. He's electric. I love catching him. He's a fun kid to work with."
Minnis' fastball tails away from right-handed hitters, making it the perfect pitch to go with a hard-biting slider. Selected by the Atlanta Braves in the 33rd round of the 2010 Major League Baseball draft, Minnis has worked his way into a position to be drafted higher than that in June.
Cleavinger won't be eligible to be drafted out of college for another two years. Unlike in the days when it required a long-distance phone call or a letter stuffed with newspaper clippings to track progress from two time zones away, the Internet and cable television will keep all interested parties informed, including Brad Stoll, both lefties' high school coach.
Stoll was watching a Stanford-Oregon game on ESPNU when the Ducks coach came to the mound and tapped his left arm.
"I had tears watching Garrett come out of the bullpen on national TV," said Stoll, who coaches in the Cape Cod League during the summer. "He's going to play for us in the Cape; beyond excited about that, two more months to be around Garrett Cleavinger."
While Stoll watched from home, Cleavinger's outing lasted one pitch, a flyout to left, good enough to become the pitcher of record in a 4-3 victory against Stanford. Cleavinger and Minnis are getting a good chunk of their educations paid for, thanks to their left arms.
Former Free State lefty power pitcher Cody Kukuk is getting paid to work on his baseball education. A seventh-round draft choice by the Boston Red Sox in 2011, Kukuk pitched in Instructional League that fall. Last summer, his time on the mound was limited because of a DUI arrest. He pitched well (2-0, 0.90, 16 strikeouts in 10 innings) in the Gulf Coast League at the end of the summer and started this season pitching in the full-season Class A South Atlantic League. Kukuk (2-2, 3.63, .153 batting average against) has 12 walks and 19 strikeouts in 22-1/3 innings.
Unlike in college, though, minor league prospects are judged on far more than results. It's how they improve the quality and command of their pitches that means more to their employers. Kukuk left Free State High with a 94 mph fastball and a sharp breaking ball. Free State High coach Mike Hill said Kukuk told him the Red Sox minor-league instructors haven't made major changes in his delivery, but have spent a great deal of time working with him on a change-up.
"It wouldn't surprise me at all if they force him in some games to go completely without throwing breaking balls, forcing him to throw change-ups," Hill said. "It's an effective pitch that makes his fastball faster. A change-up is genuinely the best pitch in baseball if you've got a guy who can throw a good one. Hitting is all timing, and if a change-up is thrown effectively it changes planes, too, and there is certainly a benefit to that."
Hill said he thinks Kukuk's makeup will be a positive as he works to survive the rigors of the minor leagues.
"He's an ultra-competitive kid and he's got a lot of pride in what he does," Hill said. "Those two things are intangibles any club is going to want to have."
Hill used words very similar to those uttered by Stoll about Minnis and Cleavinger. Lawrence high schools, it seems, never stop pumping out elite baseball talent.
Copyright 2018 The Lawrence Journal-World. All rights reserved. This material may not be published, broadcast, rewritten or redistributed. We strive to uphold our values for every story published.