United Way leaders have tapped longtime Lawrence residents Mark and Marsha Buhler to lead the organization's annual fundraising campaign, which officials hope will benefit from an improving economy.
"We're hoping to raise the capital we did last year and maybe improve on that," said Mark Buhler, who is a former Douglas County commissioner and state senator.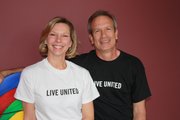 The United Way of Douglas County raised $1.7 million last year, but it had to go past its original deadline to raise the money, as a slow economy and changes in how the United Way funds organizations hampered giving.
The organization hasn't yet set an official fundraising goal for the campaign. Colleen Gregoire, vice president and campaign director for the United Way, said a goal would be set in July. A group of "pacesetter" companies will begin fundraising in August, and the full public campaign will begin in September. The organization hopes to reach its goal by early December.
The Buhlers said they are looking forward to the effort.
"I'm excited about being part of this because I have no hesitation about this cause," Marsha Buhler said. "Everything they are doing, I feel really good about it. The agencies are really working well together, and it is making Douglas County better and helping the resources go farther."
In 2011, the United Way began implementing a new "community impact" model for distributing its funding. The model requires social service agencies in three broad groups — education, self-sufficiency and health — to come together and create a joint plan for how their agencies can work together to use United Way funding.
Gregoire said the agency now can begin pointing to some successes from that approach. They include:
• The Lawrence Community Shelter, Independence Inc. and Health Care Access have teamed up to get shelter guests from the shelter to Health Care Access for medical appointments. Health Care Access is blocking specific appointment times for shelter guests, and Independence Inc. is providing transportation to the clinic.
• Just Food, The Salvation Army and Ballard Community Services have worked to consolidate some of their food pantry operations, including the sharing of client data to avoid duplication and to free up staff time that can be used for case management activities with the clients.
• Independence Inc. and The Arc have teamed up to receive United Way funding to relaunch the Youth Employment Program, a jobs program for 15- to 21-year-olds who have disabilities.
"Tough love is not exactly the right word with this new approach," Mark Buhler said of the United Way's requirement that agencies collaborate. "But there is increased accountability. I have a real sense that the money people give is going further now."
Copyright 2018 The Lawrence Journal-World. All rights reserved. This material may not be published, broadcast, rewritten or redistributed. We strive to uphold our values for every story published.