From a newspaper publisher to a pet food maker to a brewer — with that group, surely a banker is needed as well.
Leaders with Lawrence's Junior Achievement program announced Thursday that leaders from all four of those professions are part of the 2013 class for the Lawrence Business Hall of Fame.
Free State Brewery owner Chuck Magerl, retired Quaker Oats executive Sherry Schaub, and Dolph C. Simons Jr., editor of the Journal-World and chairman of The World Company, were announced as inductees Wednesday into the hall of fame.
Bob Georgeson, a longtime Lawrence banker who served as president and CEO of Douglas County Bank, was inducted posthumously.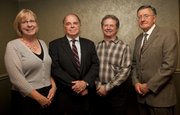 "We just feel that it is so important to recognize various business leaders and CEOs who have worked hard to help make Lawrence the gem of the community that we are today," said Dale Willey, a local auto dealer and chairman of the hall of fame.
In addition to operating the hall of fame, Junior Achievement sends business leaders into Lawrence schools to provide lessons on business and the free enterprise system.
The hall of fame, which is in its fourth year, is housed at the Lawrence Public Library. Because of construction at the library, the hall is temporarily not available for public viewing. But when the library reopens, it will include plaques and video tributes to all the hall's members, Willey said.
The 2013 class will be formally inducted at a ceremony and banquet on Oct. 1 at the Kansas Union Ballroom at Kansas University.
Here's a look at the 2013 inductees.
Bob Georgeson
Georgeson spent nearly five decades as a Lawrence banker. From 1993 to 2001, he served as president and CEO of Douglas County Bank, but previously had held management positions with First National Bank in Lawrence.
Georgeson died in 2010. His daughter, Karen Georgeson, said Thursday that she was still hearing from people who wanted to thank her for the advice and counsel Georgeson had given them over the years.
"Since he passed away, I'm really just amazed at how many people have come forward to tell me that he was their mentor," Georgeson said.
Chuck Magerl
Magerl founded Free State Brewery in 1989, after working to change state laws to allow for the first legal brewery in Kansas in more than 100 years. Today the business includes not only the downtown Lawrence restaurant and brewery but also a brewing and bottling operation in East Lawrence. In addition, Magerl also is an owner of downtown Lawrence's Wheatfields Bakery.
Magerl — who was a Junior Achievement student while growing up in Kansas City, Kan. — said Lawrence's past business leaders had inspired him to start his own ventures. Magerl said a history book detailing the legacy of Lawrence's Walruff Brewery, which operated in the days before Prohibition, caused him to begin exploring the idea of Free State.
"That legacy really inspired me," Magerl said. "And hopefully we can share the legacies of other local business leaders with Lawrence students and help them understand that business opportunities are what you make of them."
Sherry Schaub
Schaub came to Lawrence in 1977 to oversee the construction of a pet food plant for Quaker Oats, and then stayed on for nine years to serve as general manager of the Lawrence operations. The facility currently is owned by Del Monte and continues to be one of the larger employers in the city.
Schaub and his family moved away from Lawrence for a dozen years while he served in positions with Quaker Oats in San Francisco and Chicago. But upon retirement, he said the family decided to return to Lawrence because it had always considered the city the "gold standard of communities."
"It was such a great place to raise a family, and it is so easy to make friends in this community," Schaub said. "From the day we left Lawrence, we said we were coming back, and we never deviated from that."
Dolph C. Simons Jr.
Simons is the longtime editor of the Lawrence Journal-World and chairman of its parent company, The World Company, which operates LJWorld.com and various other properties.
Simons, a Lawrence native, said he was "highly complimented" to be included in the class and that it was particularly meaningful to follow his father, the late Dolph C. Simons Sr., who was inducted posthumously into the hall's first class.
"The city needs people with vision, and I know that is what Junior Achievement is trying to instill with its programs," Simons said. "Lawrence has been my life, and the university and the state of Kansas. I can tell you it is the best place possible you can live."
Copyright 2018 The Lawrence Journal-World. All rights reserved. This material may not be published, broadcast, rewritten or redistributed. We strive to uphold our values for every story published.