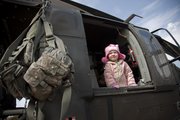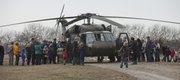 It appeared in the distance, looking like a bird flying high above the treetops. Eager faces awaited its landing, many with an expression of youthful amazement.
"Here it comes!" someone in the crowd of hundreds yelled out.
The gazers pointed, then cheered, louder and louder, as the object got closer, till you could hear its blades chopping the cold air.
This was no bird.
A U.S. Army Black Hawk helicopter landed in the soccer field at First United Methodist Church's west campus Wednesday afternoon, as 150 Kids First Preschool students, along with their parents and siblings, watched eagerly from inside.
One boy covered his ears and another girl cried, while many of their classmates banged on the windows.
"Oh my gosh, it's awesome!" a parent said as the kids cheered and the adults shot pictures with their cameras and smartphones. "Do this every Sunday and you'd have a lot more people coming to service," another adult joked.
Two of the soldiers in the chopper had especially big fans in the audience: Army Capt. Josh Urban and Maj. Matthew Jordon, who are both based out of Forbes Field in Topeka and live in Lawrence, each have kids at the school. It was like a parents career day — on steroids.
"It was cool," 4-year-old Tyler Urban said of his dad's landing of the chopper, as his 2-year-old brother, Kole, stood by. Tyler added that the best part of the day was seeing "our daddy."
"It's always enjoyable to do stuff like this," said Urban, who has done tours in Iraq and Kuwait. "It's good to support community events. When you have a good group of kids like this, it's special."
But events like this might be on the way out, at least temporarily. As of April 1, the Army will no longer put on these types of educational programs, the result of federal budget cuts.
Teachers and administrators at Kids First were glad the calendar still said March.
"It is something they will probably never get to see again," said preschool director Susan Sachse.
The event also coincided with subject matter the kids have been learning about in class recently.
"We've been talking about transportation all month: how planes don't have steering wheels. We've also talked about pilots," said teacher Kathy Willis.
The children were able to tour the massive helicopter, strapping themselves in the seats and working the controls (which weren't on, of course) in the cockpit of the roughly three-decade-old, brownish-green chopper.
"I like the front!" said 4-year-old Brylee Miller. Her classmate, 5-year-old Maxtin McCurley, similarly said his favorite part was "sitting in the front seat."
"I liked when it landed," said 5-year-old Ethan Crisp, adding that he enjoys playing with Army-themed toys.
Back inside, the youngsters got to try on the soldiers' night-vision goggles, bulletproof vests and helmets.
Copyright 2017 The Lawrence Journal-World. All rights reserved. This material may not be published, broadcast, rewritten or redistributed. We strive to uphold our values for every story published.