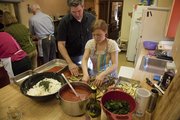 A holiday story that can be passed down from generation to generation through a slice of horseradish root?
Taste can be a powerful thing.
A chunk of the bitter root — joined by other symbolic foods — graced each table Tuesday at the Lawrence Jewish Community Congregation's Seder dinner, the first the congregation has organized in several years. The meal fell on the second day of Passover, the Jewish holiday commemorating the deliverance of the ancient Hebrews from slavery in Egypt.
Though the congregation numbers only about 75, more than 100 people turned out for the meal and accompanying ceremony.
"We're very excited and energized by the wonderful response that this event got," said Rabbi Moti Rieber, who became the congregation's new leader last summer.
Throughout the accompanying ceremony, special foods and wine played a key role in retelling the Passover story.
Horseradish is on the Seder plate to symbolize the bitterness of slavery. It's joined by a number of other items, including fresh vegetables — a sign of spring — dipped in saltwater — to symbolize tears the Jews shed while enslaved in Egypt.
During the week of Passover, Jews eat only unleavened bread, symbolic of leaving Egypt too suddenly to wait for bread to rise. More like a cracker — for the Seder, a flavorless cracker — the traditional matzo isn't … well, even Rieber admits it's not exactly a tastebud roller coaster.
"I guess we have to suffer like our ancestors suffered," he said.
But that's only for the ceremony. The food gets better for the celebration that follows.
"After the recitation of the service, we do have a festive meal," Rieber said.
An estimated 85 percent of American Jews — practicing or not — celebrate Passover with some form of Seder, making it one of the most celebrated Jewish holidays, Rieber said. In addition to celebrating freedom, the holiday calls for recommitting to what they describe as "repair of the world," Rieber said.
"We also recognize there are many other people who don't have the blessings that we have," he said. "There are other people in the world who are not liberated."
Rita York Hennecke and husband Michael Hennecke led the team that prepared Tuesday's meal, featuring as much organic and sustainably produced food as possible.
As general manager of The Merc, 901 Iowa St., York Hennecke supports such food industry standards anyway. But she also sees a correlation with Passover's acknowledgement of people who remain enslaved.
"All we can do to promote freedom with our food and the people who make our food … we're promoting the message of sustainability," she said.
Congregation member Suzanne Lange said she was thrilled by Tuesday's turnout, which included multiple generations at tables together.
"It's wonderful to be with the community because Passover is about family and friends, being together," she said. "We're really commanded to do this."
Copyright 2018 The Lawrence Journal-World. All rights reserved. This material may not be published, broadcast, rewritten or redistributed. We strive to uphold our values for every story published.