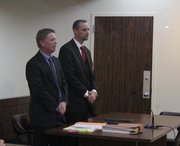 Work has begun to select a new sheriff in Franklin County, after embattled Sheriff Jeff Curry — facing criminal charges of interfering with police — announced last week that he plans to resign.
By state law, Curry's successor is nominated by the Franklin County Republicans, the local political party holding the office, then sent to the governor for approval.
Jeff Richards, chairman of the Franklin County Republicans, said the party has not officially been notified by the governor that Curry officially resigned.
At an ouster hearing last week, Curry said he'd resign, effective April 1. He will remain on administrative leave until then, and Undersheriff Steve Lunger temporarily fills in as sheriff.
Once the resignation is official, the Franklin County Republicans will hold a convention, where they'll make nominations and eventually vote for a nominee.
"There are a lot of names being kicked around," Richards said.
A convention — which is open to the public — has been tentatively set for April 4. Once the party makes a nomination to the governor's office, the governor has seven days to make the appointment.
The new sheriff would remain in office until the next general election in November 2014.
Curry originally was appointed by the same process in 2010, following the retirement of Sheriff Craig Davis.
Curry, along with Franklin County Sheriff's Deputy Jerrod Fredricks, still face felony charges of interfering with police. Curry faces an additional charge of misdemeanor official misconduct. A preliminary hearing in that case is tentatively set for April 1.
Details of the criminal case remain minimal, and court records filed in the ouster petition remain sealed.
Copyright 2018 The Lawrence Journal-World. All rights reserved. This material may not be published, broadcast, rewritten or redistributed. We strive to uphold our values for every story published.