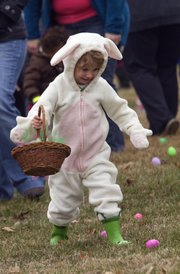 Children equipped with coats, gloves and baskets surrounded Hobbs Park on Saturday morning as they waited to rush the field in search of Easter eggs. The Easter egg hunt, hosted by The Greenhouse Culture, had more than 350 children registered to participate in the free community event.
The eggs on the field weren't filled with the candy the Easter Bunny usually leaves. Instead, the eggs had a slip of paper inside of them. The paper was a coupon for a redeemable prize at one of 20 businesses that sponsored the egg hunt. After the children collected the coupon-filled eggs, they had to go to the business to receive their prize.
Amy Wells, Olathe, said the event was her daughter's first Easter egg hunt. She especially liked the idea of having the coupons in the eggs and then walking down Massachusetts Street to get the prizes instead of just grabbing the eggs and leaving.
"It makes it more associated with the sponsors because you actually have to go there," Wells said.
Event coordinator Kalah Sipp said The Greenhouse Culture got the idea for the different type of egg hunt from a similar event hosted in Wellsville.
"We just wanted an opportunity to bring out the community and bring local businesses ... We wanted it to be really a whole community thing," Sipp said.
The businesses donated more than 4,000 prizes ranging from candy and children's trinkets to free food and coupons for parents. The children and their parents had until 2 p.m. to redeem their coupons at the businesses.
Copyright 2018 The Lawrence Journal-World. All rights reserved. This material may not be published, broadcast, rewritten or redistributed. We strive to uphold our values for every story published.