A 19-year-old former Haskell Indian Nations University student has been sentenced to three years of probation for the assault of a female Haskell student in November. Carlo Gregory Wilson was sentenced in Douglas County Court on Friday after pleading guilty to aggravated sexual battery Jan. 10.
According to testimony at a preliminary hearing, the victim said Wilson — who attended Haskell at the time and knew the victim — followed her into her dorm room in the early-morning hours of Nov. 12 and began kissing and groping her.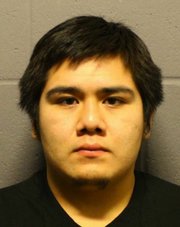 After a struggle, during which the man said he wanted to have sex with the victim, the victim was able to leave and contacted police, according to her testimony.
Lawrence crime, fire, courts coverage
Have a tip?
Contact Journal-World reporter Caitlin Doornbos:
Speaking in court Friday, the victim said she faced harassment from other Haskell students who supported Wilson in court and blamed her for reporting the crime. Even so, she told the court Wilson was a good person who made a mistake, and she did not want him to go to prison.
Wilson could have received probation or a prison sentence, according to state sentencing guidelines. Douglas County District Court Judge Michael Malone said he chose to grant probation because Wilson had no criminal history, entered a drug and alcohol treatment program, registered as a sex offender, and moved to Oklahoma.
Malone ordered that Wilson have no contact with the victim, and warned him that he could go to prison for about 30 months if he violated the terms of his probation.
Copyright 2018 The Lawrence Journal-World. All rights reserved. This material may not be published, broadcast, rewritten or redistributed. We strive to uphold our values for every story published.