Photo Gallery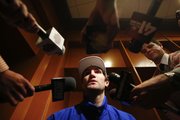 NCAA practices in Kansas City
Images from Thursday's practices and press conferences on Thursday, March 22, 2013 at the Sprint Center in Kansas City, Mo.
He played in 12 games this season, even made one start, and was a critical part of the Western Kentucky rotation during a stretch in which injuries decimated the roster.
But you won't find him in the Hilltoppers media guide. The reason? WKU's Dec. 27 match-up with Florida International was the first organized basketball game that senior Marcus Vasquez had played in more than five years.
The story goes like this:
A couple of weeks before Western Kentucky football made its first bowl appearance in school history, Vasquez noticed that injuries — six rotation players missed time — had taken a toll on the WKU hoops squad. He knew a couple of the guys, always loved basketball and, with his college career winding down, thought he'd email WKU basketball coach Ray Harper to see if he needed some help.
Turns out he did.
After talking about how the 6-foot-1, 200-pound wide-receiver-turned-shooting-guard could help, Harper and Vasquez came to an agreement. After the bowl game, Vasquez, who had already graduated, would enroll in the proper classes and do whatever he could to help the ailing basketball team.
The bowl game took place on Dec. 26, 2012, in Detroit. Western Kentucky lost to Central Michigan, 24-21.
Vasquez was bummed, but, thanks to the opportunity given to him by Harper, did not have time to dwell on it. Instead, he and his mother hopped into a car in Detroit, made the drive to Bowling Green, Ky., and by noon the next day he had laced up his sneakers and taken place in a pregame shoot-around. He even played in the game that night.
"It was crazy, man," said Vasquez in the WKU locker room at Sprint Center, a little more than 24 hours before his 16th-seeded Hilltoppers take on top-seeded Kansas University. "I never thought this would happen. I was thinking my career in college was about to end, and God blessed me with a few more months. I'm thankful that I got to play with these guys. They're like my brothers now."
For the season, Vasquez scored just 10 points — on 2-of-4 shooting — nine rebounds and seven fouls in 48 minutes. An outsider would never know from his lack of stats how big his role was. But Harper does.
"He's as big a part of this basketball team as T.J. Price, who was the Most Outstanding Player at our conference tournament," Harper said. "I love that dude, Marcus. He's a guy who understands what it's all about."
With all but one of the players who missed time because of injury available for today's 8:50 p.m. tipoff against Kansas, Vasquez's role has diminished. He never played big minutes to begin with, but guaranteed playing time was not the reason he joined the team.
"Coach Harp just told me, 'Get ready,'" Vasquez recalled of his first instructions upon joining the roster. "He threw me in the tank and just hoped I could survive. I mostly play D, but I like to play D. Play a little D, talk a little trash, use my football mentality on the court to just let 'em know I'm there."
Like in Detroit, Vasquez's mother will be in the crowd tonight. She'll be with his sister, cousin, niece and nephew. The Hilltoppers are 20-point underdogs, but even if the folks in Vegas are proven correct, Vasquez said he would not be jumping in the car with his mom to join the baseball team Saturday.
"If it could play out that way, I would go," he said. "But hopefully we stay here another day."
Security breach?
Early Thursday, when Harper first walked into the Sprint Center, security guards stopped him and asked why he was there.
"I'm sure Bill Self didn't get asked the questions I got asked," Harper joked later in the day. "They didn't know who the heck I was. But it wasn't a big deal. They just said, 'Are you a fan? What are you doing here, and how can we help you?' I told 'em I needed to come to a meeting. Fortunately, I had some people with me that they actually believed who said, 'He coaches our basketball team.' They allowed me to come on in. Hopefully they'll let me in (tonight)."
Opportunity knocks
About the time the Hilltoppers were fulfilling their media responsibilities on Thursday, fellow 16 seed Southern was giving No. 1 seed Gonzaga all it wanted in the West region. Some might think WKU was rooting for Southern to pull the upset, but several players in the WKU locker room said they actually were cheering for the Zags.
"We want to be the first 16 seed to win," several WKU players said.
Gonzaga survived the scare, 64-58, and advanced to Saturday's third round. That leaves the Hilltoppers and James Madison (today vs. Indiana) as the only 16 seeds remaining with the chance to make history. They know it won't be easy.
"We know what kind of team Kansas has," Harper said. "And it's gonna be an unbelievable task. But our kids have an opportunity. They're gonna go out and play hard, and we'll play loose."
Defense wins
Asked what jumps out about the Jayhawks when they watch them on film, several Western Kentucky players pointed to the Jayhawks' defense.
"You can tell their defense gets them going," sophomore guard T.J. Price said. "Even if they're struggling on the offensive side, they'll pick up their defense, and they keep going."
Sophomore forward George Fant also said KU's ball movement made his head spin.
"They also move the ball a lot, really quickly," Fant said. "They don't hang on to the ball too much with one person. That's another big thing. I'm not sure how many assists and turnovers they have, but I know they're pretty good at it."
Copyright 2018 The Lawrence Journal-World. All rights reserved. This material may not be published, broadcast, rewritten or redistributed. We strive to uphold our values for every story published.