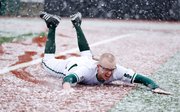 The Free State baseball team's season opener was postponed and rescheduled for Wednesday due to snow.
The Firebirds were scheduled to play a doubleheader against visiting Warrensburg, Mo., Tuesday afternoon but steady snowfall accumulated, making field conditions unplayable.
FSHS baseball coach Mike Hill said the twinbill has been rescheduled for 2 p.m. Wednesday, but the teams could decide to play one game, instead of two, should the temperature plummet.
Copyright 2018 The Lawrence Journal-World. All rights reserved. This material may not be published, broadcast, rewritten or redistributed. We strive to uphold our values for every story published.