Candidate profile: Kristie Adair
• Born: March 27, 1973, Tulsa, Okla.
• Address: 4924 Stoneback Pl.
• Profession: Co-owner, Wicked Broadband
• Education: B.A., history, Washburn University, 2011
• Family: Husband, Joshua Montgomery; two daughters
Before she and her husband launched a local internet company, Kristie Adair worked as a preschool paraeducator, both in her hometown of Tulsa, Okla., and in Lawrence.
If elected to the Lawrence school board on April 2, Adair says enhancing local preschool programs will be one of her top priorities.
"With the (proposed $92.5 million) bond, they're going to add three (preschool) classrooms," Adair said. "I'd love to see if we can work with the community better to educate the community about this program. They're asking parents who can afford it to pay, and that would offset the costs. If we could get enough folks to pay for the program, possibly talk about it being a little more self-sustaining, and increase it further down the road. So I would try to work strongly with the community to advocate for parents enrolling their students in a pre-K program in the Lawrence public schools instead of looking at a private model or a daycare model."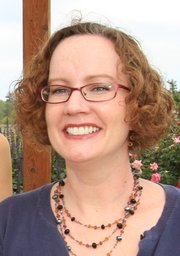 Adair is one of four candidates vying for three seats on the school board in the April 2 general election.
Born and raised in Oklahoma, Adair said she worked in Tulsa public schools as a paraeducator in an elementary school for English language learners. She and her husband, Joshua Montgomery, moved here in 2005 when he took a job with a local aerospace company.
She worked one semester as a pre-kindergarten paraeducator at the former East Heights Early Childhood Family Center before returning to school and completing a history degree at Washburn University in Topeka.
Adair and Montgomery now own Community Wireless Communications, which operates Wicked Broadband in Lawrence.
Like the three other candidates, Adair says she strongly supports the district's $92.5 million bond proposal that also will be on the ballot.
"I'm just hoping that if enough people understand that this is an investment in our community, it's going to pass," Adair said. "Whoever is on the school board, it's going to be very beneficial to have this bond."
During a recent candidate forum, Adair also agreed with the other candidates that one of the biggest challenges facing the district is future funding from the state. If state lawmakers reduce base funding, Adair said she would look first at reducing outside contracts before cutting programs or raising local property taxes.
"I'd hate to try to lay more of the burden on property owners," Adair said. "Sometimes you have a particular vendor you use, and that's the one you've always used, but if you put another RFP (request for proposals) out, you can get some new bids."
In response to other issues being debated in the Kansas Legislature, Adair said she is also a strong supporter of collective bargaining rights for teachers.
She also said she is skeptical, although not necessarily opposed, to expanding charter school programs.
"I would not really advocate for them in Lawrence unless I was given enough information to see that they were really a vital necessity," Adair said.
Education news
Have a story idea?
Contact Journal-World education reporter Elliot Hughes:
ehughes@ljworld.com
Copyright 2018 The Lawrence Journal-World. All rights reserved. This material may not be published, broadcast, rewritten or redistributed. We strive to uphold our values for every story published.