A 24-year-old Overland Park man was sentenced to five years in prison Friday for accidentally killing a Lawrence woman in a 2010 vehicle collision on Clinton Parkway.
Sean Barrett Walker pleaded guilty in January to a charge of involuntary manslaughter while under the influence of alcohol or drugs. He appeared in Douglas County Court on Friday to be sentenced in a hearing also attended by his family and several relatives of 19-year-old Mary Grace Paez, who was killed in the accident.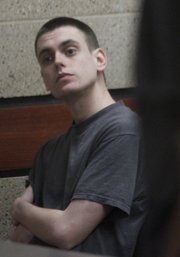 Walker's blood-alcohol content was 0.23, nearly three times the state's legal limit, two hours after the collision Oct. 14, 2010, at the intersection of Clinton Parkway and Inverness Drive, according to a police officer who testified at a preliminary hearing in September. Walker's westbound vehicle struck a southbound car driven by Paez, a 2010 Lawrence High School graduate, according to police. Paez died at the scene.
In September, a judge approved a $100,000 settlement for Paez's parents in a civil lawsuit against Walker.
On Friday, Walker's attorney asked Douglas County District Court Judge Michael Malone to depart from state sentencing guidelines that, based on the severity of the offense and Walker's criminal history, would require a sentence of 71 months in prison. The 2010 accident would have been Walker's first DUI offense, but he was on probation for robbery and battery convictions in Johnson County at the time of the accident.
Lawrence crime, fire, courts coverage
Have a tip?
Contact Journal-World reporter Caitlin Doornbos:
Walker had completed inpatient drug and alcohol treatment in the years since the accident, his attorney said, while staying gainfully employed and obeying the law. The defense asked for a sentence of 41 months in prison.
Walker admitted being at fault in the accident.
"My actions were wrong. I would take them back if I could," he said. "I know I can't change the past."
Paez's mother, Cecilia Paez, cried while reading a statement to the court.
"We are so heartbroken," she said. "I think about the way she died. I wonder if she was scared when she lay on the cold ground with her injuries. This man must be held accountable for his actions."
But, Cecilia Paez said, adding months to Walker's prison sentence would not bring her daughter back. She said she hoped Walker would be reformed and spend his years doing something positive, so that some good could come from her daughter's death.
Malone said he recognized Walker's efforts to take responsibility for the accident. He departed from the sentencing guidelines by a lesser margin than the defense had asked and sentenced Walker to 60 months in prison.
Copyright 2018 The Lawrence Journal-World. All rights reserved. This material may not be published, broadcast, rewritten or redistributed. We strive to uphold our values for every story published.