A 24-year-old Overland Park man has pleaded guilty to a charge of involuntary manslaughter in the death of a 19-year-old Lawrence woman in a 2010 vehicle collision.
Sean Barrett Walker pleaded guilty Jan. 11 in Douglas County Court to involuntary manslaughter while under the influence of alcohol or drugs.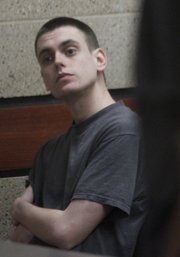 Walker's blood-alcohol content was 0.23, nearly three times the state's legal limit, two hours after the collision on Oct. 14, 2010, at the intersection of Clinton Parkway and Inverness Drive, according to a police officer who testified at a preliminary hearing in September. Walker's westbound vehicle struck a southbound car driven by Mary Grace Paez, a 2010 Lawrence High School graduate, according to police. Paez died at the scene.
The police report also lists Walker's speeding and failure to yield at a yellow flashing traffic light as contributing to the crash, but charges related to those traffic infractions were dismissed when he pleaded guilty this month.
Walker was traveling at least 11 mph faster than the 45 mph speed limit on Clinton Parkway, and Paez was driving 13 mph in the 30 mph zone, according to the accident report. Paez's toxicology test in her autopsy was negative for alcohol or drugs. In September, a judge approved a $100,000 settlement for Paez's parents in a civil lawsuit against Walker.
Walker faces a sentence of 38 months to 14 years in prison. He is scheduled to be sentenced March 1.
* To view recent LJWorld crime stories, click here.
Click here to view the weekly arrest log.
Copyright 2018 The Lawrence Journal-World. All rights reserved. This material may not be published, broadcast, rewritten or redistributed. We strive to uphold our values for every story published.