When track and field athletes at Free State High found out no team scores would be kept at their season-opening home quadrangular on Thursday, coach Steve Heffernan didn't hear many Firebirds complaining.
Photo Gallery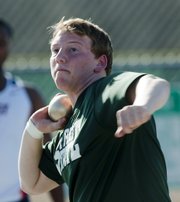 Free State track home quadrangular
The early track meet, which allowed FSHS and Olathe East, North and Northwest to get started almost two weeks ahead of many other programs, served as a competitive warm-up for all the athletes, Free State junior Stan Skwarlo said.
"A lot of us just wanted to get out on the track," Skwarlo said after winning the 1,600-meter run (4:35.9) and the 800 (2:01.85) for the Firebirds.
Snow kept the whole FSHS team off its home turf during the first stretch of scheduled practices.
"We were pretty nervous," Skwarlo said, "because we haven't ran fast for a while, but I think that our whole team did really well today."
Free State's boys took first place in the 4x800 relay, Seth Maples won the 200-meter dash (23.33), Josiah LeBrun won the discus (126-4), Demarko Bobo had the top long-jump mark (20-3.5), Ryan Liston had a first-place run in the 3,200 and Dan Krieger finished No. 1 in the pole vault (12-0).
The Firebirds' girls won six events. Gabrielle Dabney raced to first in the 100 hurdles (16.35) and recorded the top high jump (5-0), Kiara Clark won the 300 hurdles (49.15), Bailey Sullivan outpaced the field in the 800 (2:26.87), Claire Sanner ran the fastest 3,200 and Scout Wiebe's 114-1 throw in the javelin earned her the top spot.
Wiebe, who also placed third in discus, said none of the Firebirds expected to look amazing or reach mid-season form, considering their limited practice reps leading up to the opener.
"We're treating it like we can figure out where we're at, and then that'll help us improve for our next meets," Wiebe said, adding the athletes now feel more confident in their events.
Free State next competes March 26, after spring break, at Lawrence High.
Copyright 2018 The Lawrence Journal-World. All rights reserved. This material may not be published, broadcast, rewritten or redistributed. We strive to uphold our values for every story published.