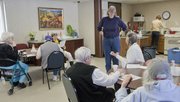 They may not be cutthroat and acerbic like the contestants on the TV show, but the folks participating in Top Chef: Babcock Place are still generating some heat in the kitchen.
Twice a month, residents of Babcock Place, an apartment complex at 1700 Massachusetts St. for low-income seniors managed by the Lawrence-Douglas County Housing Authority, gather to prepare healthy foods, sample cuisine and learn a lot about how good nutrition can help them stay well.
The thrill of competition is just an added bonus.
Top Chef: Babcock Place was cooked up by Lisa Rowe, an AmeriCorps member serving at Babcock Place, as a way to get seniors excited about eating healthier and creating nutritious meals on a budget. She is one of 16 AmeriCorps members managed by the United Way of Douglas County who are working at nine Douglas County agencies to increase health literacy and health outcomes in our community.
Help from AmeriCorps
According to a comprehensive community health assessment completed by the Lawrence Douglas County Health Department in 2012, 81.8 percent of county residents report consuming fewer than five fruits and vegetables a day. That low number of people eating a healthy diet concerns Erika Dvorske, president and CEO of the United Way of Douglas County and member of the community health assessment steering committee.
"The United Way is working to address the root causes of community health problems, and one of the ways we're doing so is by supporting programs and initiatives that help people adopt a healthier lifestyle," Dvorske said. "The AmeriCorps program is a key component, and we're really excited about the huge impact the members are having all over Douglas County."
As part of its work to promote health, education and self-sufficiency, the United Way recruits, trains and manages the AmeriCorps members. The program is funded by a grant from the Corporation for National and Community Service, which is administered through the Kansas Volunteer Commission.
"AmeriCorps members are part of a national service program that is working to get things done in nonprofit organizations and also to develop the members' knowledge base and skills," explained Lori Johns, director of volunteer engagement for United Way.
'I need this'
At Babcock Place, Rowe, a food show junkie, figured out how to blend her passion for cooking competitions with her mission to boost health outcomes.
The free Top Chef classes are put on twice a month, each with a new challenge. During one, residents had to create a dish using the food they received from the USDA Commodities Supplemental Foods Program.
"I asked the residents to come up with healthy, innovative ways to cook with it," Rowe recounts. "They brought their dishes down and tasted each other's. They tried to pick a favorite, but no one would commit because they were all good."
In February, the focus was on heart-healthy foods. The residents worked in teams to prepare three dishes using ingredients like sweet potatoes, almonds and spinach, sharing dietary and culinary tips as they sliced, diced and mixed side by side in Babcock Place's kitchen. For another class, Rowe prepared several dishes using a common "mystery ingredient," which residents were challenged to identify. Spoiler alert: It was tofu.
All the recipes wind up in the Babcock Place newsletter, so the residents in all 120 apartments have a chance to enjoy them, too.
Pam Hadjisavalos, a regular at Top Chef: Babcock Place, is a cancer survivor with a family history of heart disease. The nutrition program has revolutionized the way she cooks and eats.
"I had no idea about cooking well" before the classes, Hadjisavalos says. "I cook a whole different way now. I'm trying to get rid of canned goods and switching over to whole foods, healthy foods. I need this, I totally do. An important part of staying healthy is eating well."
Another facet of a healthy lifestyle is having positive connections with others. And Top Chef: Babcock Place delivers on that score, too. The classes give residents, many of whom live alone, a chance to have fun while they gather together with a common goal.
"They say it's fun cooking with someone else. It reminds them of the holidays, when everyone was in the kitchen, cooking together," says Gayle Sigurdson, elderly services coordinator for the Lawrence-Douglas County Housing Authority.
Quality programs
Rowe is the second AmeriCorps member to serve at Babcock Place, and Sigurdson is thrilled with the way the program allows her to better assist residents, going deeper and further with outreach than she could before because of staffing and budget limitations.
"The AmeriCorps members bring in new ideas from a different generation, and all the energy that comes from that," Sigurdson explains.
In addition, she says, the United Way-sponsored AmeriCorps members serving at different sites in Douglas County collaborate to provide enhanced services and opportunities. Recently, Rowe connected with an AmeriCorps member serving at Heartland Medical Clinic to deliver a program at Babcock Place focused on diabetes prevention and management.
"We've really benefitted from the AmeriCorps network," Sigurdson shares. "It ups the quality of our programming."
So does having an extra staff person chartered with developing new initiatives.
"I can keep the program going, but if someone wants to do something out of the ordinary, that's where the AmeriCorps member comes in. They bring extra hands and extra ideas," Sigurdson says.
In addition to Top Chef: Babcock Place, Rowe also spearheads health initiatives like leading an exercise class for residents and setting up Smart 911 files for residents to keep in case they have a medical emergency.
The AmeriCorps program has been so effective in the community that more and more agencies are asking to be a part of the United Way's program. United Way hopes to expand the program to 18 members this fall.
"They are benefiting the entire community through an infusion of energy and innovation," says Johns, the volunteering director.
Copyright 2018 The Lawrence Journal-World. All rights reserved. This material may not be published, broadcast, rewritten or redistributed. We strive to uphold our values for every story published.