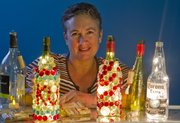 Bonnie Jackson has been having some fun getting ready for Lawrence Parks and Recreation's Spring Arts and Crafts Festival.
Jackson and her friend Julie Miller work together to make crafts out of beverage bottles. Their wares include night lights, as well as candle holders.
"I drink to support my art habit," Jackson said.
She made sure to add that bars, as well as friends, also contribute to their collection of bottles.
"We call ourselves the glassy girls," she said, laughing.
The two will be some of the 80 vendors selling their wares, ranging from coasters to baked goods to clothing to home decor at the festival, which is from 9 a.m. to 4 p.m. Saturday at the Douglas County Fairgrounds, 2110 Harper St.
Jackson, of Lawrence, said they got the idea to make their crafts, which will range from $15 to $25 apiece, after seeing a similar craft on Pinterest.com.
"I'm a pretty crafty kind of person," Jackson said. "I thought, 'No way I'll spend 50 bucks on that. I'll make it myself."
The yearly event is expected to draw around 4,000 to 5,000 people. The event is free and open to the public.
Copyright 2018 The Lawrence Journal-World. All rights reserved. This material may not be published, broadcast, rewritten or redistributed. We strive to uphold our values for every story published.