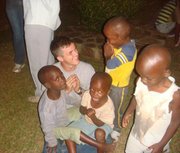 Contact KU and higher ed reporter Sara Shepherd
Have a tip or story idea?
---
More stories
In 2009, a Kansas University student and football player had an idea, and leaders on campus jumped on it.
They would publish a poster picturing men at KU who were examples of success at a time when too many male students were struggling.
In 2009, Matt Visser stepped on the KU campus for the first semester of his freshman year. He was the son of an Army officer who had moved to new homes seven times in his life before he came to college.
He soon found himself in over his head, his grades spiraling as he developed a drinking habit. After a semester he landed on academic probation, at risk of being dismissed from KU if he didn't turn things around.
This month, KU's fifth annual "Men of Merit" poster will be tacked up on walls around campus, displaying a photo of 15 men chosen as role models. Matt Visser is sitting in front.
Now a senior, Visser is enrolled in his typical 20-plus credit hours during his final semester, as he prepares to be commissioned as an Army officer himself. If all goes right, he'll graduate in May with three majors, three experiences studying abroad and a story of how one student used what was inside him and what was around him on campus to get to where he wanted to be.
"It was definitely a journey," Visser says of his time at KU, "and I had to find my niche, I suppose."
---
Matt Visser has been going on for a good five minutes about how he is proud to have helped with planning for KU's new undergraduate curriculum; about how his friends get annoyed that every time he has a free second he has to spend it sending an email or doing something else productive; about how he's never finished working.
Then he stops, and he remembers he was answering a question about an English class he took during his freshman year.
"I'm sorry," he says. "Am I answering your questions correctly?"
He's gone off on this tangent because that English class is where he learned that work is never done. Your assignment might be to write a four- to six-page paper, but if it takes 12 pages to say what you need to say, then you turn in a 12-page paper.
His instructor, a graduate student, taught him this after he came to her early in the semester.
It was English 102, the second of two introductory English classes that nearly every KU undergraduate takes but that "most students wouldn't really need to take seriously," Visser says.
But he wanted to redeem himself after what happened during his first semester, he said. His grades had been C's and D's.
He and his father, Phil Visser, both say he was a good high school student in Harker Heights, Texas. But during that first semester, he didn't seem to pick up on class material as quickly as his friends who lived in the same scholarship hall.
They would finish studying and invite him to go out. He would say yes. He started drinking from time to time, and then more and more as his grades sunk and he lost confidence.
"Getting into that scene was unhealthy for me," Visser said.
By the time it was over, he was on academic probation. His Army ROTC scholarship was revoked, and he was given one semester to earn it back by getting his grades up.
He wouldn't have been alone if his freshman-year tribulations had been the end of his time at KU. In recent years, about one in five KU freshmen has not returned for his or her second year. (KU aims to lower that rate to one in 10.)
And he certainly wasn't alone among young men who have struggled to adjust to the college environment.
---
KU's Emily Taylor Center for Women and Gender Equity printed its first "Men of Merit" poster in 2009 after Gary Green, a KU football player, came in and asked if there could be a male equivalent to the center's annual "Women of Distinction" calendar, which honors high-achieving women on campus.
The center's program director, Kathy Rose-Mockry, said it was a great idea. Research was showing that many male students weren't succeeding on college campuses.
Each year since then, she said, the promotion has grown and drawn more attention, adding a reception for the honorees, putting them in the Homecoming parade and creating a symposium on masculinity to accompany it.
The center announced its newest "Men of Merit" in February, and this month the poster will start going up around campus.
For each year's poster, a committee selects male students, faculty and staff who are worthy of being role models and who challenge stereotypical ideas about what it means to be a man, she said.
Still, she says, KU officials know that male students are more likely to run into disciplinary problems or to struggle with alcoholism or drug abuse, and they're less likely to take advantage of on-campus services designed to help them succeed in class.
The Chronicle of Higher Education reported this past fall that across the country, university and college officials have discovered that male students are much less likely than women to get engaged in activities like studying abroad, volunteering or intensive studying. Men are more likely to spend their time playing video games or watching TV.
"We're hoping that we can set the bar high and say we do have men that are succeeding," Rose-Mockry said. "Here they are."
---
This semester, Matt Visser is enrolled in 24 credit hours, as usual: 21 hours worth of KU courses, plus one community-college course.
KU undergraduates must take 12 credit hours to be considered full-time students; 15 hours per semester is the typical pace required to graduate in four years.
He plans to graduate in May with a triple-major: political science, global and international studies and French. He also has ROTC duties, served two years as a student senator, and volunteered for the KU Student Alumni Association. He works part-time in KU's Office of Study Abroad to pay his rent.
"I probably, on average, sleep four to five hours a night," Visser said, "maybe."
He says that if his friends want to see him, he'll ask them to join him in a coffee shop while he studies.
One friend, KU junior Brenda Morales, said that when she wants Visser to take part in a social activity, she'll tell him several weeks ahead of time so he can jot the appointment down in his planner.
"It's just incredible how he pushes himself," Morales said.
But for a guy with little time for socializing, he has a lot of friends. Lt. Col. Storm Reynolds, battalion commander for the KU Army ROTC, passes on a story about a time some ROTC cadets were hired to pass out programs at a KU football game. Visser was one of them, Reynolds said, and about half of the dozens of people who walked by at Memorial Stadium knew him by name.
"He has a passion about being involved," Reynolds said.
Reynolds was one of the people on campus who nominated Visser for the "Men of Merit" honor, also citing his speaking out in support of openly gay military members.
What changed since Visser's freshman year? First, he moved to a new scholarship hall, Krehbiel, to put himself in a new environment. He joined groups and pursued new interests he developed with a ravenous hunger. That's how he ended up with three majors.
"I didn't want just six to eight courses in a subject matter," Visser said. "I wanted everything they had to give me."
An international politics class made him start to think about the world on a global level.
Brent Steele, an associate professor of political science who taught that course, said Visser's polite, amiable demeanor masks a fierce drive.
"I have no idea how he finds the time," Steele said.
He studied abroad in France, and then decided to go ahead and pursue a French major. He went to Costa Rica, and then to Rwanda on a Department of Defense internship, teaching English to soldiers there. He heard them talk of family members who died in the genocide there in 1994.
Now he wants to eventually serve as an Army foreign area officer — a regional expert who serves overseas and works with international leaders — hopefully in east Africa.
Reynolds said he believes Visser can do it. "And he'll do very well in that capacity," he says.
Matt's father, Army Col. Phil Visser, says his son realized he had a chance to better himself that might be slipping away.
"I think above all he was determined not to squander that away, not to miss the opportunity," Phil said
Matt says his grade-point average is up to 3.35. He'd like it to be higher, even though he says academics don't come naturally to him.
His GPA didn't stop him from earning a U.S. Department of State scholarship for this summer to learn to speak Punjabi in India.
He's trying to learn as many languages as he can. That helps if you want to be an American ambassador, as he hopes to one day.
But it's also just a way to keep pushing, to keep adding more pages to his story. Why stop at four to six if you can write 12?
"It's never done," Visser said. "It can always be better, no matter what it is."
Copyright 2017 The Lawrence Journal-World. All rights reserved. This material may not be published, broadcast, rewritten or redistributed. We strive to uphold our values for every story published.