Lawrence voters got their first chance Saturday to meet and talk with all of the candidates vying for seats on the Lawrence school board and city commission.
For many, after a highly contested primary race for the city commission, it was the first chance to meet with school board candidates and talk about the proposed $92.5 million school bond election.
"I think we're still learning what the candidates who are running for the school board are interested in because they didn't have a primary," said James Dunn of the Voter Education Coalition, which sponsored the event. "This is the first event where all the school board candidates have had a presentation."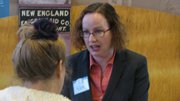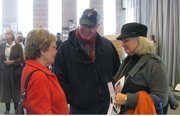 But as for the city commission race, Dunn said, "That's another story going on."
"We have a lot of things going on at the city level. One of them has to do with this Rock Chalk Park. We have rental registration, and of course the overall picture of just where the city's going in their expansion plan, the sewer and water and all the utility issues, urban growth or non-growth. Whatever we're going t have around here."
Alan Cowles, president of the West Lawrence Neighborhood Association, said he thinks city planning will be the big issue in the city commission race.
"We're looking for very careful city planning," he said, "especially having to do with the residential areas because the streets you put in place are going to be there for hundreds of years."
Meanwhile, Cowles said he is just starting to look closely at the school elections.
"I don't really follow the school board very much, I must admit," he said. "And it's kind of unfortunate on my part that I don't. My kids are grown up and are in their 30s."
Cowles is actually typical for the Lawrence area. According to Census Bureau estimates, only about 23 percent of the households in Lawrence include the householder's own children under 18 years of age. Nationwide, only about 21 percent of households do.
Jana Rea, chairwoman of the Douglas County Republican Party, admitted she hasn't paid much attention to school board races either, but she said the local GOP intends to get more involved in the issues as the race progresses.
"I do have some concerns, one of them being is that it seems like in Lawrence we conflate more money with better education, and I don't think we should do that," Rea said. "There are legitimate needs for infrastructure, but I just don't think that it's automatic that more money delivers better education. I think we have to be a little bit more discretionary."
The lack of public awareness could pose a challenge for candidates trying to engage voters in school-related issues, including the district's proposed $92.5 million bond issue.
Bob Byers, an incumbent on the school board seeking re-election, says the key will be whether supporters of the bond issue can convince voters that it would benefit the entire community.
"People still haven't heard a lot, and I think if we can get so people understand it is a no-tax-increase bond, and then do some explaining about what that means for Lawrence," Byers said. "Because it's really not only schools. It's for the Lawrence community."
Jim Mullins, a field director for the conservative political action group Americans for Prosperity, is attempting to drum up opposition to the bond proposal.
"Because the school board didn't have the guts to close some schools that they should have closed, instead they're going to have to fix up all 14 of them," Mullins said.
He distributed information from the conservative think tank Kansas Policy Institute showing that the district has, by that group's estimates, nearly $36 million in unencumbered cash reserves.
Byers, however, said he's not hearing complaints from voters about the district's financial status.
"Right now, what helps us in getting financing for our bond and our interest rates so low is exactly that," he said of the cash reserves. "So I really haven't heard a lot of people screaming about that."
Byers is among four candidates vying for three seats on the school board. Board president Vanessa Sanburn is also seeking re-election. And two political newcomers have entered the race: Kristie Adair and Adina Morse.
Six candidates are competing for three seats on the Lawrence city commission: Mike Amyx, an incumbent; Jeremy Farmer; Terry Riordan; Rob Chestnut; Scott Criqui; and Leslie Soden.
Copyright 2018 The Lawrence Journal-World. All rights reserved. This material may not be published, broadcast, rewritten or redistributed. We strive to uphold our values for every story published.