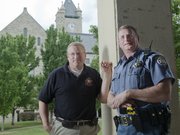 After two or three decades working for the sheriff's office, people started to recognize Gary Squires and Steve Grammer on the street. Even when they are out of uniform, people stop to say hello — people they have arrested, stood guard over in jail, or taught in the D.A.R.E. programs of the 1990s. As they say, if each one shakes your hand, happy to see you, you've probably had a good career.
Squires and Grammer retired last week as lieutenants with the Douglas County Sheriff's Office. For Squires, it's the end of a 32-year career. For Grammer, it's the last of 22 years with the sheriff's office — though he'll continue to work in the area as a chimney sweep. More on that later.
While the two officers bear a certain resemblance — Grammer jokes that they are stepbrothers — the two rarely worked together, and have different stories of their time working in Douglas County.
For Squires, it's been a love story and a lifelong dedication to helping those who most need it. For Grammer, it's been a mish-mash of tragedy and comedy, taking him from notorious homicide cases to improbable raccoon attacks.
Neither of them ever expected to be a lawman, but when they found themselves on the job, both left unique footprints in the communities they served.
'They know who I am'
When Squires applied for the job of a deputy in 1981, he remembers Sheriff Rex Johnson asking him, "Why do you want to do this?"
"It sounds cliche," Squires says now. "But it's what I said — 'I want to help people.'"
By all accounts, that's exactly what Squires did, spending 16 years on patrol in Douglas County, working with kids in schools and giving safety workshops for elderly residents. He worked at the Douglas County Jail, where he had a reputation for fairness, and later became a familiar face at the Douglas County Courthouse, where he supervised security.
But patrol was where his heart was, Squires said. That's where he met his wife, Julie, 21 years ago. She had just been hired as an emergency dispatcher in 1992, and Gary was asked to take her on patrol and show her around the county. Their first ride would take them to a shocking scene, and create a strong bond.
During the ride-along, Squires was called to a suicide attempt in Baldwin City. A young man had shot himself in the head with a shotgun. As the distraught family looked on, Squires performed CPR on the young man, who did not survive. Julie said she was impressed with how Squires responded, and how he tried to console the family.
"He was very present," Julie said. "Some of the things that came with the job, he did take them to heart."
When they got back into the car and left, they didn't speak about it. They had just met. They were married three years later.
Over time, Julie said, she came to see Squires as a sincere, serious man who also had a sense of humor about the crazy situations he faced on patrol. She knew that, when she dispatched him to a domestic disturbance in the county, he would handle it well. "Gary was good at defusing tense situations," Julie said.
Of all the jobs Squires performed over three decades, working under three different sheriffs, the one that followed him the longest was his time as a D.A.R.E. officer at Schwegler, Kennedy and Centennial elementary schools, urging kids to stay off drugs and out of trouble. Even today, he recognizes the names and faces of the children — now grown up — when he sees them in Lawrence. He sees many who have become happy, healthy adults.
But sometimes, he said, he sees them in jail or in court. "They know who I am," he said. Squires won't say it saddens him, but Julie will. "That's hard for him," she said. "When you see a small child, all you see is potential."
Chimney patrol
All police officers have stories to tell but Grammer, 54, seems to have more than most, and he enjoys telling them. Not all are lighthearted: In the 1990s, he worked a lot of fatal car accidents on Douglas County roads. And in 2003, he was one of the officers who discovered Carmin Ross beaten and stabbed to death in her rural Douglas County home. Grammer testified in the murder trial of her ex-husband, former Kansas State University English professor Thomas Murray, who was convicted in 2005 and is serving a 25-to-life sentence in prison.
But through years of patrolling the county and working at the jail, Grammer kept the unusual sideline of moonlighting as a chimney sweep.
At times, the job intersected with his role as a lawman, as he found all sorts of unexpected things in chimneys from Lawrence to Oskaloosa. Sometimes he found the burnt ends of marijuana joints, other times it was half-burned counterfeit bills. In some cases, if it was only a tiny amount of pot, he says he had to ask himself, "Do I show them my badge or just ignore it and clean the chimney?"
Sometimes, the second job could be downright hazardous. More often than contraband, the chimneys hid animals — both the dead and the living. Grammer once reached up a chimney only to have a large, angry raccoon sink its teeth into his arm. His son Scott, who had come along to help on this job, said he remembers watching from a safe distance.
"At first, he thought it was dead," Scott said. "But then it just came alive. It was like World War III."
"It was growling, and hissing," Grammer said. "I was screaming like a little girl, and Scott was rolling on the floor, laughing."
Grammer eventually got loose and started a fire in the fireplace to smoke the raccoon out. When it came leaping out of the chimney and off the roof, Grammer was taken aback. "It was a big one," he said. "That thing came out like a 40-pound dog."
In recent years, Grammer has been a supervisor at Douglas County Jail, and coworkers say he is noted for treating the inmates there with respect while also getting them to comply with the rules. Scott has been surprised to meet some of those inmates, including rough-looking characters, while walking on Massachusetts Street with his father after dinner.
"A guy will come up and say 'Hi, Steve,' Scott said. "They act like they're best friends."
"Who was that?" Scott will say.
"Oh," Grammer answers, "It's a guy I arrested a couple of weeks ago."
'Middle-aged Clark Kent'
Grammer and Squires officially said goodbye to the sheriff's office on Friday, at a reception in the old courthouse at 1100 Massachusetts St. The day was celebrated by friends and family who said they would be glad to see more of the two husbands and fathers in retirement.
Scott Grammer, calling from Indianapolis, said he was hoping his father would be able to visit him more often. Now working in a forensic crime lab in Indianapolis, Scott still goes out on chimney jobs with his father when he visits home. It's a chance, he said, for the two of them to hang out together. "He's my best friend," Scott said.
Squires will have plenty to do, too, though he mainly hopes to spend more time with his family, he said. He makes it a habit to check in on old family friends around Lawrence who helped take care of him as a kid, and he competes in the Kansas Senior Olympics, where he has entered shot put, discus and long jump competitions.
Once again, Squires won't say it, but his wife, Julie, will: he has won some medals over the years and still is in competitive shape, even at the age of 57. As his old friend Ken Fangohr, who worked with him for almost 30 years, has said, "He looks like a middle-aged Clark Kent, and he's strong as an ox."
Also typical of Squires, he wasn't thinking of himself as Friday's retirement party approached. "The sad part is, as you get older, a lot of the people I used to stop and talk to, they've passed away," he said. "A lot of the people I would have invited, they're gone."
Copyright 2018 The Lawrence Journal-World. All rights reserved. This material may not be published, broadcast, rewritten or redistributed. We strive to uphold our values for every story published.