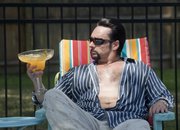 Lawrence's long-running sketch comedy and musical show hosted by incorrigible European playboy Victor Continental (played by Jerry Mitchell), will soon be coming to an end.
The last Victor Continental Show, Big Finish, Happy Ending, will be held July 26 and 27, at Liberty Hall, 644 Massachusetts St.
Tickets for the show cost $12-$25 and will go on sale Monday at the Liberty Hall box office and Ticketmaster.
Copyright 2018 The Lawrence Journal-World. All rights reserved. This material may not be published, broadcast, rewritten or redistributed. We strive to uphold our values for every story published.