As he drove to his West Lawrence home Wednesday, Ken Koger noticed a sign for a new farmers market. The problem was, he didn't have any cash on him.
No worries.
"I took an IOU last week and didn't even remember it," said John Pendleton, owner of Pendleton's Kaw Valley Country Market, after one of his staffers told him a lady had just repaid her debt for purple asparagus.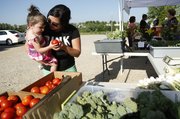 Koger is one of many West Lawrence residents happy to once again have an outlet for fresh, locally produced food on their side of town. The Clinton Parkway Nursery Farmers Market has been slowly growing in popularity since opening last month, trying to gain a footing in a part of the city that hasn't had luck keeping farmers markets around in recent years. The nursery and garden center at 4900 Clinton Parkway hopes to change that, by offering a little bit of everything and holding its sales late into the evening. The new market takes place Wednesdays from 5-7 p.m. through Aug. 31.
The Downtown Lawrence Farmers Market had a location in West Lawrence until this year, leaving the people who sold (and bought) there out of luck.
"I had some of the vendors call me and say, 'Why don't you do a farmers market?'" said Ann Peuser, co-owner of Clinton Parkway Nursery.
She agreed and, with the help of the vendors, got the market up and running May 15.
Pendleton, for one, is confident it will succeed.
"It has wonderful potential," he said during last week's market, which, even though it took place on a brutally hot day, had a parking lot full of cars, at least for the first hour. "One of the big advantages in that we start at 5 and end at 7, and the other ones are from 4 to 6. I think in a couple of weeks you'll come here at 6:30 and it's going to be crowded."
Jack Wilson, co-owner of Washington Creek Lavender, said the more farmers markets in Lawrence the better.
"People here like knowing where their products come from; they like meeting the people who make them," said Wilson, who sells bed and bath products handmade with lavender grown on his Douglas County farm. "We thought this was a great idea because there isn't a farmers market on this end of town."
Koger, 76, loved the idea of having ripe fruit and vegetables available just seconds from where he lives.
"This is super," he said, putting tomatoes into a brown paper bag, the blistering sun setting behind him. "The problem with grocery stores is they pick the tomatoes when they're green and ship them halfway around the world, and they taste like crap."
He took a look around at the rest of the produce.
"I'll take some of that broccoli, too," he said.
Copyright 2018 The Lawrence Journal-World. All rights reserved. This material may not be published, broadcast, rewritten or redistributed. We strive to uphold our values for every story published.