The school year may be over for most people, but four students from Lawrence High School still have some work to finish.
Those students are leaving Lawrence Saturday and are headed to Birmingham, Ala., to compete in the National Forensics League's national speech and debate tournament.
"We've been really fortunate over the last several years to repeatedly attend the national tournament," said LHS forensics coach Jeff Plinsky. I'm excited to have another group going.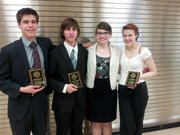 The group includes two seniors, Lauren Pauls and Eddie Loupe, along with sophomore Clara Cobb and freshman Stefan Petrovic.
Each qualified by placing either first or second in their respective event at the East Kansas NFL District tournament held in Johnson County in April.
Pauls chose to compete at nationals in congressional debate, although she also placed high enough to qualify in original oratory. But NFL rules limit students to competing in only one event at the national tournament to prevent scheduling conflicts.
Loupe is competing in Lincoln-Douglas debate, a one-on-one competition where students debate a philosophical topic.
Cobb qualified in humorous interpretation, where speakers perform an interpretation of a humorous piece of literature or drama.
Loupe advanced to nationals in foreign extemporaneous speaking, where speakers draw a topic out of a hat about current foreign affairs and are given 30 minutes to prepare a seven-minute speech on the topic.
"We have two seniors and two underclassmen, so that gives me great hope and confidence for the future of our program, and I look forward to seeing what these kids can do in the national arena," Plinsky said.
Competition at the tournament begins Sunday and continues through Friday.
Education news
Have a story idea?
Contact Journal-World education reporter Elliot Hughes:
ehughes@ljworld.com
Copyright 2018 The Lawrence Journal-World. All rights reserved. This material may not be published, broadcast, rewritten or redistributed. We strive to uphold our values for every story published.