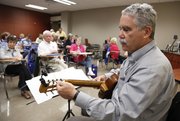 Contact KU and higher ed reporter Sara Shepherd
Have a tip or story idea?
---
More stories
About 50 students sat listening to a lecture by KU professor Jan Kozma on Wednesday afternoon in Kansas University's Spooner Hall.
But a few things made this lecture a bit different from the typical one. For one thing, all the students received samples of Italian prosciutto and parmigiano reggiano cheese, the subjects of the talk. The class applauded when Kozma, a professor of French and Italian, finished. And the crowd was a bit older.
They were among the participants in this year's KU Mini College, a program run by KU's College of Liberal Arts and Sciences that gives adults — some retirees, some not — a chance to experience life on campus for a week, taking classes on a variety of subjects picked by faculty and attending other programs.
The weeklong Mini College, in its fifth year, drew a record 151 students who each paid a $250 fee for the experience, or a bit more if they wanted to stay on campus at Margaret Amini Scholarship Hall.
That makes for one other difference between these courses and the ones the participants might remember from college: They all quite plainly want to be there.
"You don't see anybody sleeping in class," said Dave Roberts of Overland Park, who's attending his first Mini College.
Many of the Mini College students are KU alumni coming back to campus, but not all. Roberts and his wife, Jane, both 60, are Washburn alumni but KU sports fans with a second home in Lawrence.
"At first I thought going back to school was scary, but I thought, 'What the heck?' at my age," Jane said as she and Dave ate lunch at the just-off-campus burger joint The Wheel on Wednesday. (The Wheel, normally closed for the summer, was open just for the Mini College students.)
The Roberts have heard Chip Taylor, professor of ecology and evolutionary biology, talk about the Monarch Watch program he directs; learned leadership lessons from Bill Lacy, director of the Dole Institute of Politics; and listened to communication studies professor Robert Rowland, a favorite of many Mini College participants, dissect Barack Obama's rhetoric during the 2012 election.
"I don't recall my professors being as good as these people have been," Roberts said. "Or maybe my perspective is different."
Jessica Beeson, who directs the Mini College for CLAS, said about half of this year's record crop of students were new to the Mini College. But others are veterans.
Tracy Gardner of Topeka, in her fourth year at the Mini College, and Anne Brumbaugh, who's gone to all five, have become friends seeing each other every summer. They laughed over a few beers at The Wheel between classes Wednesday.
"I will come here every year for the rest of my life," Gardner said. It's a great experience for the money, the friends said — plus there are no tests.
"When you're older, you're more interested in learning than in just getting through," said Denny Aguiar of Leawood, another five-year Mini College veteran.
Indeed, the crowd sat quietly and attentively during Kozma's lecture, which concentrated on the intricate (and costly) techniques used in Italy to make prosciutto and parmigiano and mozzarella cheeses. They asked questions and laughed at her jokes. (Of the pigs selected for the finest Italian prosciutto, made in one small Italian town, Kozma said, "This is like going to Harvard.")
"It's a great way to take a vacation without spending a lot of money," said Marcia Williamson, who's at her fourth Mini College. Williamson, a teacher in Abilene, graduated from KU in 1968. Now she and her college roommate, along with their two husbands, come back to Mini College each year together.
It's a great excuse to come back to campus for a reason other than sports games, she said.
One new event this year was a panel of KU deans, where the leaders told the students about what's going on at the university now and how things are changing for 21st-Century students.
"I think they really enjoy those VIP moments," Beeson said.
Thursday night, they'll celebrate their "graduation" with a ceremony and party at Liberty Hall downtown. But many will plan to come back again, including Larry Brown, 72, of Houston. (Yes, he knows he has the same name as the old KU basketball coach.)
"Every chance I get to come back, I come back here," Brown said.
Copyright 2018 The Lawrence Journal-World. All rights reserved. This material may not be published, broadcast, rewritten or redistributed. We strive to uphold our values for every story published.