Photo Gallery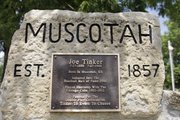 Joe Tinker Day
Visitors to Joe Tinker Day, Saturday, July 27 in Muscotah, celebrated the birthday and birth town of the Hall of Fame Chicago Cub shortstop, watched a vintage baseball game and saw the World's Largest Baseball where a museum for Joe Tinker will be established.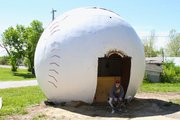 Photo Gallery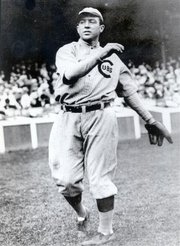 Joe Tinker and Muscotah, Kan.
Tinkers to Evers to Chance
These are the saddest of possible words:
"Tinker to Evers to Chance."
Trio of bear cubs, and fleeter than birds,
Tinker and Evers and Chance.
Ruthlessly pricking our gonfalon bubble,
Making a Giant hit into a double –
Words that are heavy with nothing but trouble:
"Tinker to Evers to Chance."
—By Franklin Pierce Adams, New York Evening Mail July 10, 1910
How to help
Those interested in helping build the Joe Tinker Museum can make tax-deductible donations to the Kansas Rural Community Foundation, which is handling the project funds. For more information, visit www.thekrcf.org/about.shtml, or call 785-456-8444.
Jeff Hanson seemed lost in the crowd at times on Saturday, unrecognized by many of the hundreds of people suddenly descending on Joe Tinker Field, recently built at the edge of Muscotah, Kan.
More than 300 spectators gathered, roughly doubling the sleepy Atchison County town's population. They had come to eat Cracker Jack, watch an 1870's-style exhibition baseball game, and see what Hanson bills as "The World's Largest Baseball."
The occasion: Joe Tinker Day, a celebration of the town's most famous son. Tinker, a Hall of Fame Chicago Cubs shortstop, played for the team when the Cubs won their last world championship in 1908. Tinker was born in Muscotah in 1880 and moved away at the age of five, long before he was immortalized in the poem, "Tinker to Evers to Chance," which fans will tell you is second only to "Casey at the Bat," in baseball folklore.

Muscotah had celebrated Joe Tinker Day before, but never like this. Baseball fans and curiosity-seekers alike had come from all over the state, including Tinker descendants who flew in from Baltimore and California. Local residents and statewide organizations had gotten involved, and the Kansas House of Representatives boosted the affair by officially proclaiming July 27 as Joe Tinker Day.
"It's been incredible to see an idea come to fruition like this," Hanson said, as he quietly observed the crowd that transformed his dream into reality. "We're years ahead of where he expected to be about this time."
A few blocks away from the newly-built Joe Tinker Field, the seed from which the day's festival grew looked better than ever. Visitors stepped into Hanson's yard to snap photos of a 20-foot-tall, freshly painted baseball that is meant to house a Joe Tinker museum in the near future.
A water tower tank, a three-legged dog, and a dream
None of this existed a year ago.
Last summer, if you had followed the twists and turns of Highway 159 far enough to pass through Muscotah, you might have failed to notice the town entirely. That is, unless your eye caught a large metal orb sitting improbably in a yard by the road, like some foreign object fallen from space. There, you might have met Hanson, 70, who would have told you about an ambitious plan to save his town. As he outlined his three-phase project for the old water tower tank, his three-legged dog, Lucky, would hop around him in circles.
The plan was to paint the water tank, transform it into a giant baseball, build a Joe Tinker museum inside it, and make the resulting spectacle a cornerstone of a baseball-themed tourist trade that could save the once-prosperous, but now shrinking, town of Muscotah.

Hanson, a retired carpenter, is a relative newcomer, having arrived in town six years ago with his wife, C.J., who is from Muscotah. But that hasn't tempered his enthusiasm for seeing the town grow.
Hanson would have told you still more of his plans for Joe Tinker Day: the baseball museum to drive interest in a larger Joe Tinker Day festival, the crowds that festival could attract, all of it evolving into a tourist trail of towns across Kansas with similar attractions.
Not everyone believed these plans would materialize into something real. Even within the small community, many doubted that people would come to Muscotah for Joe Tinker Day, and some derided the idea for their own reasons, said Muscotah Mayor Roy Tacker. "It's been mixed," Tacker said. "Some like it, some don't. Some people don't care about baseball."
But, with help from some key allies, Hanson built it. And they came.
'We put out the call'
Hanson's efforts started slowly but picked up steam when the Kansas Sampler Foundation, which works around the state to preserve rural Kansas culture, threw its resources behind him. The idea that Muscotah could draw on its connection to Tinker to create a small-town tourist attraction was just the sort of project Kansas Sampler seeks to promote.
"We put out the call," said Marci Penner, director of Kansas Sampler. The group's statewide network brought 40 volunteers and $6,000 in donations to Muscotah to push the Joe Tinker project forward. "This is not the story of a baseball player, but it's the story of a small town," Penner said. If it was a success, she said, maybe residents would push forward with other projects. "Then, they think, 'we could do something else.'"
Over the course of a year, volunteers transformed the old water tower tank into a gleaming white baseball, with a miniature baseball diamond built around it to promote the future museum. As Joe Tinker Day approached, interest swelled when Hanson announced that some of Tinker's living descendants were flying in from Baltimore and California to meet with visitors. The headline event of the day was an exhibition baseball game between the Cowtown Vintage Base Ball Club of Wichita and the Hodgman Nine, from Hodgeman County. The two ball clubs travel the state, showing what baseball looked like in the 1870's, and found Muscotah's Joe Tinker Day a perfect venue.
Before the game started, volunteers brought a goat named Buster through the crowd, urging spectators to pat him on the head and help "reverse the curse," in reference to the infamous "Billy Goat" curse that some say doomed the Chicago Cubs in every World Series race since the turn of the last century.
In the crowd of fans, some wearing souvenir Joe Tinker Day T-shirts, some eating kettle corn and hot dogs, were Lawrence residents Gerald Rork and Jim Roberts. Originally from the nearby towns of Horton and Denton, they brought their grandchildren to Muscotah for the day. "We've been hearing about it all along," said Rork, who still has family in the area and keeps in touch with local developments.
"This is cool," Roberts said. "It'd be nice if we could have one of these games in Lawrence."
At the start of the game, the Cowtown and Hodgeman Nine players emerged together from the outfield as in the movie "Field of Dreams." Ranging in age from early 20s to middle age, they wore uniforms in the style of the 1870's and took the field barehanded, as the game was played back then. Dropped line drives, stinging hands, and laughs were part of the game Saturday, as they were more than a century ago.
Bigger than the world's largest baseball
Hanson, sitting quietly far from the action, watched the people watching the game. He isn't a fan of baseball, and it happens that neither is Tinker's grandson, Jay Tinker, who visited Muscotah for the first time in his life Saturday. He brought his two sons with him, and was joined by another Tinker grandson who made a surprise visit from California.
Of the relatives, Jay Tinker had the most direct connection to Tinker, but they were far from close, he said.
He described Tinker, whom he knew only in his childhood, as "cold and aloof." Jay never saw his grandfather play. He found baseball boring, and the details of Tinker's career are better known to baseball fans the world over than they are to Jay.
But on Saturday, Jay Tinker said he felt more connected to his Hall of Fame grandfather than he ever had before, and was charmed by Muscotah. Maybe part of it was the friendly attention from locals, but there was something about the little town that made Jay feel at home.
"I have never, ever felt as comfortable, any place, as I have here," he said. "Forget going to an Orioles game — it's expensive. I'd rather come here."
As happy as Hanson was with this year's Joe Tinker day, he said, there is more work to do. The Joe Tinker museum is still empty inside, and needs insulation and cabinets installed to hold a small collection of Tinker memorabilia that Hanson and others have been collecting. And there will be Joe Tinker Days to plan in the future, as well as other community events yet to be conceived.
As Hanson and his Kansas Sampler allies say, it's not about baseball, or famous names of the past, as much as it is about doing something for their neighbors.
"It's good for the community," Hanson said, paying no attention to the score of the baseball game as visitors stopped to shake his hand. "That's what it's all about."
Copyright 2018 The Lawrence Journal-World. All rights reserved. This material may not be published, broadcast, rewritten or redistributed. We strive to uphold our values for every story published.