Organizers of the North Lawrence sandrat memorial hope to get it built after all, after a lack of interest and funding has thus far delayed the project.
"Sandrat" was once used as a derogatory term to describe North Lawrencians, who over time came to embrace the moniker. The term's origins range from the colorful to, literally, the rats in the sand along the Kansas River.
The sandrats have annual reunions that draw a few hundred people to North Lawrence on the first Saturday of June. A few years back, some of them approached local artist Elden Tefft to build a sandrat sculpture. He began creating Sandy the Sandrat to act as the group's official mascot.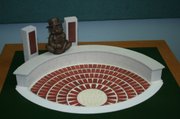 Reunion organizers later proposed housing the sculpture in a plaza on the north bank of the river, east of the Massachusetts Street bridge. The 3-foot bronze sculpture would stand on a curved limestone bench that would span 12 feet and rest on a large oval containing memorial bricks. Organizers started selling bricks to former sandrats for $100 apiece.
Thirty-seven people bought bricks, but that didn't get the memorial committee close to a goal of $10,000, the estimated cost of the platform. But after not hearing an update for a while, some of the purchasers got concerned, even contacting the Journal-World to look into the matter.
"We are still planning on going ahead with the sandrat memorial," committee member Patty Breithaupt said this week. "But it depends on if we get more money and more people involved."
The committee has applied for a grant and is investigating other funding opportunities in the community. Members are hoping for support from other sandrats, local civic organizations and the community at large.
People who purchased bricks can request their money back by calling or writing committee members. The committee also plans to send letters to the brick buyers explaining the situation and the options for getting refunds.
Breithaupt said organizers of the project have always had good intentions, namely to celebrate North Lawrence.
"It started out well, but the interest hasn't been there," she lamented. "We're still hoping it happens."
Copyright 2018 The Lawrence Journal-World. All rights reserved. This material may not be published, broadcast, rewritten or redistributed. We strive to uphold our values for every story published.