A proposal is being considered to install a sandrat sculpture on the north bank of the Kansas River, just east of the Massachusetts Street bridge.
Plans call for the 3-foot-tall bronze sculpture, which was designed by Elden Tefft, to be displayed in a plaza near Bowersock Mills and Power Co.'s hydroelectric plant now under construction.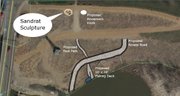 Sarah Hill-Nelson, Bowersock owner-operator, said she is eager to help by providing materials and assistance with necessary approvals for the project.
"I think the river is a great resource," she said, "and I am excited about having more amenities on the river that will draw people to it."
The sculpture recently was unveiled at the annual sandrat reunion.
The term "sandrat" — once regarded as an insult directed at North Lawrence residents — has been enthusiastically adopted by them as a mascot. The sandrat mascot, according to Patty Burns Breithaupt, who has worked to find funding and a location in North Lawrence for the statue, "stands for honor, respect, pride and hard-working people who come together in times of need, as they did during the 1951 flood."
The reunion committee is raising money for completion of the statue, which will sit atop a curved limestone bench that spans 12 feet and rests on a large oval brick area.
"It will be nice to sit on the 'Sandrat Overlook' and watch the river, remembering the old times when some of our family fished for the joy of fishing and others had to fish to make a living," Breithaupt said.
The idea for the sandrat sculpture grew out of a request for Tefft, a Kansas University professor emeritus of art, to create a sand rat mascot. He designed the mascot, and Heidi Meyer, a student he was mentoring, crafted small plaster sandrat figures as door prizes for those attending the 2001 sandrat reunion.
Tefft said the sandrat sculpture "took four clay-model sketches for the concept. But, when enlarged to full scale, the statue took off with a life of its own and developed the wisdom of the Sphinx, the dignity of a Southern gentleman, the assuredness of Napoleon, along with some Hollywood whimsy, all behind penetrating eyes like those of an eagle."
Tefft is a well-known sculptor whose works include the statue of Moses in front of Smith Hall on the Kansas University campus, the iconic Jayhawk in front of Strong Hall and Chesty Lion at Lawrence High School.
Copyright 2018 The Lawrence Journal-World. All rights reserved. This material may not be published, broadcast, rewritten or redistributed. We strive to uphold our values for every story published.