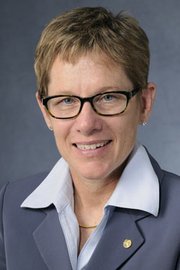 Contact KU and higher ed reporter Sara Shepherd
Have a tip or story idea?
---
More stories
Ann Cudd won't start her new job until August, but she already knows what her two biggest goals will be.
Kansas University today named Cudd, a longtime KU professor and administrator, as its first vice provost and dean of undergraduate studies. She'll be working toward two benchmarks she calls "ambitious": a 90 percent freshman retention rate, and a 70 percent six-year graduation rate.
Those are goals set by Chancellor Bernadette Gray-Little, and they'll require an improvement of about 10 percentage points each.
"Those are going to be difficult goals to reach, but I think it's really important," said Cudd, a distinguished professor of philosophy at KU.
Cudd came to KU as an assistant professor in 1988, the same year she earned a doctorate from the University of Pittsburgh. Since then, she has taught classes in philosophy and women, gender and sexuality studies.
She's written five books and dozens of journal articles on subjects including oppression, feminism and capitalism. She was director of KU's Women, Gender and Sexuality Studies Program from 2001 to 2008, and since 2008 she's been an associate dean in KU's College of Liberal Arts and Sciences. Also in 2008, she was inducted into the KU Women's Hall of Fame.
"We felt she would be a great leader," said Sara Rosen, KU's senior vice provost for academic affairs.
KU's search for the job was limited to internal candidates.
Cudd will oversee KU's undergraduate education as it undergoes its biggest change in perhaps a half-century: a revamped university-wide curriculum, called the KU Core.
In the past year, KU also has added a number of new programs designed to retain students and move them toward graduation, including a new Office of First-Year Experience and a Common Book program, special first-year seminars designed to get freshmen connected with the university and its faculty and a new computerized system to monitor students' progress and intervene when they run into trouble.
"It's a really important time in KU's history," Cudd said.
KU announced the creation of the new administrative job overseeing undergraduate education in 2011, when the Office of the Provost was reorganized. But officials waited to fill the position until the new curriculum and other undergraduate programs were in place.
"These projects now are ready to be scaled up," Cudd said. "That's the challenge."
Cudd said she'll be studying data from the new monitoring system and other sources to evaluate the new curriculum and other programs and make sure they're helping to retain, educate and graduate students.
"I'm certain that a lot of her attention will be headed towards what we can do to help our students succeed to graduation," Rosen said.
Cudd's annual salary will be $197,000, and her appointment will be split, with 20 percent devoted to continued teaching and research in the philosophy department.
Though the position is new, it won't affect KU's budget. It will replace the position of special assistant to the provost, filled since 2010 by Christopher Haufler, a professor and chairman of the Department of Ecology and Evolutionary Biology, who is returning to his previous positions.
Cudd will begin serving in the new position Aug. 1.
Copyright 2018 The Lawrence Journal-World. All rights reserved. This material may not be published, broadcast, rewritten or redistributed. We strive to uphold our values for every story published.