Lawrence crime, fire, courts coverage
Have a tip?
Contact Journal-World reporter Caitlin Doornbos: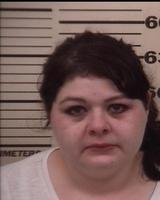 A 23-year-old Jefferson County woman has been sentenced to 38 months in prison for scalding an Oskaloosa girl, then 2 years old, with hot water last year.
Lori A. Courter was sentenced Wednesday in Jefferson County District Court, after being found guilty in May of aggravated battery and aggravated endangering of a child. Courter was arrested and charged last July, after burning her fiance's daughter with hot water in a shower, Jefferson County Sheriff Jeff Herrig said. The child was hospitalized after the incident.
Wednesday, a Jefferson County judge sentenced Courter to 32 months in prison for aggravated battery and six months for aggravated child endangerment, Jefferson County Attorney Jason Belveal said. The two sentences were set to run consecutively, and Courter was held in Jefferson County Jail Thursday awaiting a transfer to a Kansas prison.
Copyright 2018 The Lawrence Journal-World. All rights reserved. This material may not be published, broadcast, rewritten or redistributed. We strive to uphold our values for every story published.