Two Lawrence men were arrested Wednesday night on suspicion of abandoning a still-moving stolen truck and leaving the scene of an accident, along with several other offenses, following an incident outside Royal Crest Lanes, 933 Iowa St.
Terrance James Beers, 33, and Geoffry Scott Beers, 37, were booked into Douglas County Jail after police arrested them while investigating the theft of a white 2003 Ford F150 pickup truck from the P1 Group, a Lawrence contractor located at 2151 Haskell Ave.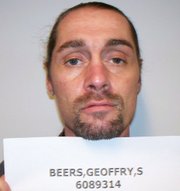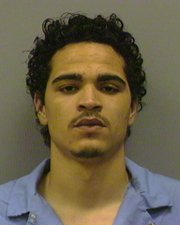 A police officer on patrol spotted the truck about 11 p.m. near Ninth and Michigan streets, said Sgt. Trent McKinley, a Lawrence Police Department spokesman. The officer tried to stop it near Ninth and Highland. The driver fled south on Highland Drive, west on Yale Road, and then into the parking lot of the Royal Crest Lanes bowling alley.
Police say both the driver and a passenger jumped out of the truck while it was still rolling, and the truck hit a parked car. They entered the bowling alley building, which also houses Wayne and Larry's Sports Bar and Grill. Police arrested them inside.
Geoffry Beers was booked on suspicion of reckless driving, obstruction, possession of the stolen truck, possession of marijuana, methamphetamine, and drug paraphernalia, leaving the scene of an accident, and a third-offense charge of driving with a suspended license. He also was detained on two bench warrants from municipal court, and remains in jail on a $10,350 bond.
Terrance Beers was booked on suspicion of possessing stolen property, failure to report an accident and leaving the scene, and obstruction. He was released on a $2,700 bond.
• To view recent LJWorld crime stories, click here.
• Click here to view the weekly arrest log.
Copyright 2018 The Lawrence Journal-World. All rights reserved. This material may not be published, broadcast, rewritten or redistributed. We strive to uphold our values for every story published.