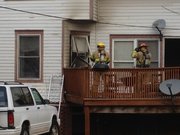 Lawrence-Douglas County Fire Medical crews responded to a fire at a house in the 900 block of Indiana Street about 8 a.m. Saturday.
There were no injuries, and the fire was under control by 9 a.m. The first firefighters on the scene reported smoke but not flames, and the house showed damage on its south side. The occupants had evacuated the house immediately on reporting the fire, and it was not clear Saturday if they would be displaced.
Copyright 2018 The Lawrence Journal-World. All rights reserved. This material may not be published, broadcast, rewritten or redistributed. We strive to uphold our values for every story published.