Brianne Martin decided Tuesday it was time for her to loosen up at the bowling alley.
"Usually I just sit down and focus, but today I felt like I was doing better when I was staying up and joking with my friends and stuff and not being so serious," the Free State High sophomore said following the Firebirds' quadrangular at Royal Crest Lanes.
Martin mingled like she was at a party between frames, talking to and joking with everyone she could — all amid setting new personal records with a 279 in her third game and a 651 total for her series, leading the FSHS girls to a first-place finish.
After rolling 181 and 191 in her first two games, Martin followed them up with the greatest game of her life.
"I wanted to bowl a 600 series, and I knew I had to get a 250 or higher," she said after blowing past those numbers with nine straight strikes to finish her afternoon and receiving a huge round of applause from the spectators.
Her only non-strike in the third game came when she posted a nine in the third frame. Martin's new approach and string of successes had her so fired up, at one point she broke out a Superman celebration, pretending to rip her FSHS bowling shirt to reveal a giant "S," much like the famed comic book character.
"I usually do the muscle man," she said of celebrating, throwing both of her arms up and flexing. "I just saw some football player do that (Superman) before or something. I was like, 'I guess I might try it.'"
Free State coach Burton Gepford left the quad impressed with the star of the day, who had the best series of all the girls and all but one of the boys (Mill Valley's Avery Laluk rolled a 701 series).
"She's been the most improved bowler on the varsity side. She's been scoring high and being consistent and following through," the first-year FSHS coach said. "We look forward to her being kind of an anchor bowler for us as the season continues."
Freshman Gentry Jordan finished with a 443 series for Free State, and Emily Reno posted a 403.
FSHS boys frustrated
Though pleased to see Martin and the Firebirds girls victorious, Free State's boys spent portions of their afternoon shaking their heads or scowling about their results.
FSHS finished 301 behind quad champion Mill Valley (2,527), and senior Tyler Roste (585 series) said he and his teammates continually bowled off their marks or failed to adjust.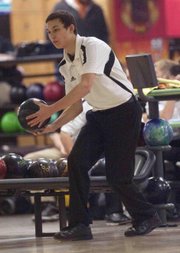 "We were just missing shots that we should be making," Roste said.
Senior Jordan Jump had a 538 series, freshman Matthew Eagle rolled a 535, and sophomore Eric Glogau finished at 500, but Roste said they all felt they could have done better.
"Most of us after our second game were pretty frustrated and we were in a big slump that we couldn't get out of," he said.
The disappointment, he added, grew for all involved.
"I think sometimes when one person gets down it might bring the whole team down," Roste said. "If everybody's doing it, it's kind of hard to come back up."
Copyright 2018 The Lawrence Journal-World. All rights reserved. This material may not be published, broadcast, rewritten or redistributed. We strive to uphold our values for every story published.