Photo Gallery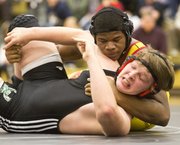 Free State wrestling vs. Lawrence High
Lawrence High's wrestlers, ranked No. 7 in the Class 6A team standings, came into Wednesday's City Showdown against rival Free State as heavy favorites. The Lions then proved their superiority by taking victories in nine of the 13 contested weight classes and winning eight of those by pinfall.
"I think that's very important," Lawrence senior Caden Lynch said following Lawrence's 57-18 victory at FSHS. "The scoring's a lot higher for duals if you get that pin."
The separation on the scoreboard kept growing because the Lions made sure to defeat some of Free State's top wrestlers. The trend began in the second match of the night, with sophomore Jhon Jacob (113 pounds) pinning the Firebirds' Quailan Fowler, who normally wrestles at 106. Later, Lynch pinned FSHS junior Colton Steele (145) in the first period. Finally, to close the dual, Lions junior heavyweight Alex Jones built a 14-3 lead against junior Sterling Ozark before pinning him in the third period.
Only junior Maurice Jacobs (132), senior Ben Soukup (152), freshman Sam Skwarlo (160) and freshman Mike Mattox (220) managed to beat their LHS foes.
The Lions opened the dual with four straight wins, thanks to freshman Coulter Strauss (106), Jacob, senior Tim Thongone (120) and junior Garrett Girard (126), building a significant 21-0 advantage.
"Starting out, when you get in a hole like that," Free State coach Mike Gillman said, "it's tough for the kids to come back from it."
Lynch credited Strauss, who replaced usual starter Xavier Kenney, for getting LHS off to its great start.
"We were having guys fill in," Lynch said, "and they came in and showed up today."
Jones, too, loved to see the lightweight Lions win via pins.
"That sets a fear in the other person," he said, "and makes them know this is a formidable team."
Jacob stayed focused for his match by picturing a win and blocking out negative thinking patterns.
"You've gotta be calm and don't go crazy," the 113-pound sophomore said with a grin. "I feel like I did great tonight, and so did the whole team."
After Free State's Jacobs beat Cy Burghart, 14-8, LHS won two straight courtesy of Will Dalager (138) and Lynch.
Then Soukup gave the Firebirds fans something to cheer about. He scored one point against junior Ryan Belliner in the second and held on for a 1-0 victory.
"I didn't let him control the match or let him do what he wanted to do," Soukup said.
That spark of positivity set up Skwarlo for a first-period pin of LHS junior Isaias Rojo in the next match, but freshman Alan Clothier (182), senior Andrew Denning (195) and Jones won three of the last four matches for Lawrence.
The highlight of the night for FSHS came in the 220-pound match. Though Lions sophomore Malik Davis scored five unanswered points, Mattox reversed out of a near fall and scored a pin.
"It was great to see big Mike Mattox come out from being on his back," Soukup said. "That was a great turn of events."
Copyright 2018 The Lawrence Journal-World. All rights reserved. This material may not be published, broadcast, rewritten or redistributed. We strive to uphold our values for every story published.