A 22-year-old Kansas University student is in serious condition at Kansas University Hospital after being hit by a truck Tuesday while riding a bicycle across the intersection of Iowa Street and Harvard Road.
Matthew G. Koontz was critically injured by a truck traveling northbound on Iowa Street about 12:30 p.m. Tuesday. Sgt. Trent McKinley, a Lawrence Police Department spokesman, said the truck, a commercial vehicle, ran a red light at the intersection while Koontz was crossing Iowa Street.
A LifeStar helicopter landed in nearby Centennial Park to transport Koontz to the KU Hospital in Kansas City, Kan.
McKinley said the truck driver, Joseph Michaels, 29, of Overbrook, was not injured. No citations had been issued Tuesday, and police did not have more information Wednesday.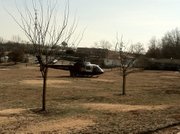 Copyright 2018 The Lawrence Journal-World. All rights reserved. This material may not be published, broadcast, rewritten or redistributed. We strive to uphold our values for every story published.