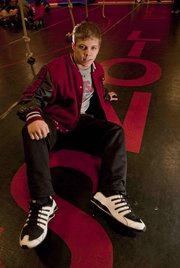 This winter should have been Hunter Haralson's victory lap.
A Lawrence High senior, Haralson had spent the past 12 years entrenched in the world of wrestling. The more he won and improved, the clearer it seemed his future would revolve around the sport. In high school, his aptitude continued to grow. It reached a point that his coaches made it clear to Haralson that wrestling could earn him a college scholarship.
So finding an eventual college destination became the focus of Haralson's junior year at LHS. His drive to make that happen even led him to give up his spot on Lawrence's football team in the fall, just to make certain he would be at his best on the mat come winter.
"I didn't want to risk being injured and not get a scholarship," Haralson said.
The plan worked to perfection. Haralson finished 2012 as the Class 6A champion at 126 pounds. This past fall, he signed with Lindenwood University in St. Charles, Mo.
Entering his senior season as the No. 1-ranked Class 6A wrestler at 132 pounds, Haralson didn't have a worry in his head. That was before Lawrence's season-opening date at the Leavenworth Challenger. During his first day of competition, Haralson tried pulling away from an opponent and couldn't — "He had my arm attached to him somehow," the Lions senior recalled.
Something happened to Haralson's left elbow, but he kept going and won the match. He realized later his adrenaline had carried him. Following the win, Haralson sought out an athletic trainer because his elbow had "swollen up like a softball." Still, he finished first at the tournament, helping LHS win the team title.
It wasn't until a few days later, on a visit to his doctor, that Haralson learned he had ripped the ulnar collateral ligament completely off the ulna in his left arm.
The severity of the injury meant if he put off surgery and kept wrestling, he had a high risk of permanent elbow damage and could lose mobility in his left arm. Haralson made the only decision he could. On January 8, he underwent Tommy John surgery — a graft procedure most associated with baseball injuries, in which his UCL was replaced with another tendon.
Good news: He would be able to wrestle again. Bad news: His LHS career was over.
Recovering and rehabbing after Tommy John surgery is a six-month process, at best. As much as Haralson wanted to put the procedure off until after the state wrestling tournament in February, he painfully and necessarily waved goodbye to his high school wrestling days.
"It's real emotional for me, to be honest," Haralson said.
He wasn't the only one impacted, Lions wrestling coach Pat Naughton said.
"It's pretty tough on all the guys, including Hunter," Naughton said. "You've been wrestling for so long, it's like, 'Now what do I do?'"
For now, Haralson is rehabbing three days a week. The first two months of the process involve regaining his full range of motion — he can't yet totally straighten or bend his left arm. After that, he'll have four months of lifting and training to build up his strength.
Sophomore Cy Burghart has taken over Haralson's former 132-pound slot.
Plus, Naughton said Lawrence is fortunate to have another senior in 138-pounder Caden Lynch (ranked No. 4 in 6A), who can anchor the lineup after lightweights Xavier Kenney and Garrett Girard and before Alan Clothier (170) and Andrew Denning (182).
If there is a silver lining in all of this for the sidelined grappler, it is that the injury won't be the only memory he takes away from his senior year. With a college wrestling roster spot secured, Haralson returned to LHS football this past fall and received All-Sunflower League honorable mention at linebacker.
"I'm glad I at least got to play one sport," Haralson said. "If I didn't play football this year and only wrestled at one tournament, I almost wouldn't have done anything my final year."
Copyright 2018 The Lawrence Journal-World. All rights reserved. This material may not be published, broadcast, rewritten or redistributed. We strive to uphold our values for every story published.