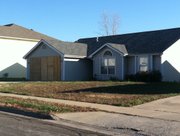 A 19-year-old Lawrence woman was charged Thursday with criminal damage stemming from a Nov. 18 incident in which a vehicle was driven into a Lawrence house.
Megan Victoria Wilson was arrested Wednesday on an arrest warrant, and charged in Douglas County District Court on Thursday. Police allege Wilson intentionally ran her vehicle into a home in the 1900 block of East 30th Street shortly before 9 a.m. Nov. 18.
People were home at the time, but no one was injured.
The vehicle — which drove through several interior walls and came out the rear of the home — caused about $100,000 in damage.
Wilson fled the scene but was found about one block from the crash. She was taken to Lawrence Memorial Hospital for medical treatment.
Police later determined Wilson ran the vehicle into the home after an argument with someone in the home.
Criminal damage is a level-7, nonperson felony. Punishment can range from probation to up to three years in prison, depending on a person's criminal history. Wilson was released on a $7,500 bond.
Copyright 2018 The Lawrence Journal-World. All rights reserved. This material may not be published, broadcast, rewritten or redistributed. We strive to uphold our values for every story published.