Photo Gallery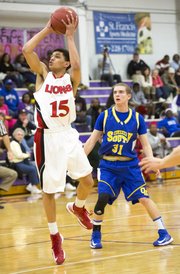 Lawrence High boys basketball vs. Olathe South
Topeka — Lawrence High boys basketball senior Drake Hofer didn't freak out after making a potentially critical mistake against Olathe South in the final seconds of a Topeka Invitational Tournament semifinal Friday night at Topeka West.
Hofer, chasing down his man on an inbounds pass, accidentally fouled Falcons senior forward Zach Vanderslice with 9.6 seconds remaining and LHS holding a narrow two-point lead.
When Vanderslice clanked the front end of a one-and-one, a determined Hofer secured a must-have defensive rebound for Lawrence and went to the foul line to sink two clutch free throws with eight seconds left that gave the Lions a 45-41 victory.
"I tried to make a play, and then I just reached my hand back and grabbed his jersey," Hofer said after scoring all six of his points from the free-throw line. "I didn't mean to foul, but that was the right guy to foul. He missed, and we won the game, so it turned out all right."
Even Lawrence coach Mike Lewis had to grin about the mishap.
"We definitely didn't come out of the timeout asking for him to foul," he said after Lawrence knocked off O-South, ranked No. 2 in Class 6A, for the second time in eight days.
Lewis said he and the LHS assistant coaches felt as if they were watching two tired boxers slug it out in the fourth quarter. Both Lawrence (8-3) and O-South (7-3) made just two field goals in the final eight minutes. But the Lions prevailed by hitting seven of their eight free-throw tries in the fourth, which they entered with a 34-32 lead.
O-South junior guard Noah Knight (game-high 14 points) hit a three with 5:10 remaining to give the Falcons a 37-36 lead — their first since the opening minutes of the second quarter.
But Lawrence, which had missed its first five field goals of the fourth, scored back-to-back baskets with an 18-foot jumper from freshman point guard Justin Roberts and a one-handed floater in the paint from Jake Mosiman to take a 40-37 lead with 3:49 left.
However, the Lions gave the ball away on two straight possessions, and the Falcons' Connor Soukup hit two free throws with 1:42 to play.
Hofer then picked up a backcourt foul and made both of his free throws two seconds later before Knight hit a pair of his own with 1:18 left, cutting Lawrence's advantage to 42-41.
After LHS patiently ate clock, Roberts drew a foul with 47 seconds remaining and hit the second of his two free-throw tries to make it 43-41 before Hofer helped Lawrence advance to today's championship game against Highland Park. Tipoff is 5:15 p.m.
"We just did what we needed to do to win," Lewis said. "It wasn't real pretty there for a few minutes in the second half."
The Lions shot just 3-for-15 in the final 16 minutes, in fact. Though they took a 31-20 lead into the second half, Jacob Seratte's bucket inside midway through the third quarter proved to be their only successful field goal of the period, and O-South outscored LHS 12-3.
The opposite scenario played out in the second quarter, when the Lions held the Falcons to 1-for-7 shooting, four turnovers and three points while scoring 16.
Said Hofer of the second-half woes: "We've just got to keep up the intensity. We can't sit back. We need to keep the offense going and not take anything for granted."
Anthony Bonner led the team with eight points, Roberts had seven and substitute forward Seratte scored seven. Lewis said that was fine with him.
"We didn't score the ball as well as we're capable of," he said, "but we got great minutes from Jacob and Sterling (Fuller, another backup post), which was very similar to last Friday."
LHS last played for the TIT championship three years ago, losing to Highland Park. The Lions last won the title in 2002, when they defeated Kansas City (Kan.) Washington. Lawrence has won the tournament five times since its inception in 1962.
Copyright 2018 The Lawrence Journal-World. All rights reserved. This material may not be published, broadcast, rewritten or redistributed. We strive to uphold our values for every story published.