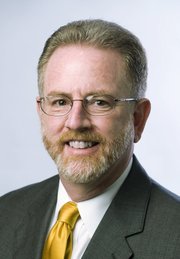 Kansas University on Friday announced the first of three final candidates for the top position at its Edwards Campus in Overland Park: a professor and administrator at Wichita State University.
Keith Pickus, interim provost at Wichita State and a professor of modern German and European history, is the first candidate to be announced for the executive vice chancellor job at the Edwards Campus, according to a KU release.
Pickus will visit the Lawrence and Edwards campuses next week.
His visit will include a public presentation and question-and-answer session at the Edwards Campus from 10 a.m. to 11 a.m. Tuesday in room 120 of the BEST Building. The session will also be streamed live on the website for the office of the KU provost, provost.ku.edu.
More career information about Pickus is also available on the provost's website. The other two candidates are scheduled to make public presentations on Thursday and on Jan. 30. KU will announce their names about two days before each of the visits, according to the release.
Copyright 2018 The Lawrence Journal-World. All rights reserved. This material may not be published, broadcast, rewritten or redistributed. We strive to uphold our values for every story published.