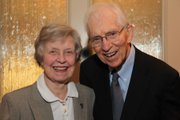 Madison "Al" Self, who along with his wife donated more to Kansas University than any other individual donor, died this past weekend in Illinois.
Self, a 1943 KU graduate and native Kansan, died Sunday at age 91 in Hinsdale, Ill. He and his wife, Lila, had lived there since 1966.
Altogether, Al and Lila have given more than $44 million to KU for various purposes, making them the university's largest individual donors.
The Selfs' gifts created fellowship programs for graduate students and undergraduates in the KU School of Engineering, established a professorship in the School of Pharmacy and contributed to various capital projects around the campus.
"Al really was always looking for ways to develop leaders," said Dale Seuferling, president of the KU Endowment Association.
Seuferling said the Self Graduate Fellowship program, as well as the Self Engineering Leadership Fellows program for undergraduates, helped the engineering recruit and train leaders in a way few other schools could.
Self earned a bachelor's degree in chemical engineering. He and Lila, both native Kansans, met at KU.
In 1947, the Selfs purchased a three-person company called Bee Chemical Co. in Illinois. By the time they sold it 37 years later, it had five U.S. manufacturing facilities and sites in Japan and England. Afterward, Al Self was chairman and CEO of Tioga International, and he was president of Allen Financial at the time of his death.
Howard Mossberg, a former KU dean of pharmacy who worked with Self on his graduate fellowship program, said he approached his giving with the same zeal and acumen that made him a huge business success.
"He knew what he wanted, and he pressed what he wanted," Mossberg said, "and, by golly, what he wanted worked."
But, Seuferling said, he was also approachable, kind and considerate.
"While he was always thinking, and he had ideas for how we could improve things, he would always then ask the question, 'Well, what do you think?' " Seuferling said.
In a statement released by KU, Chancellor Bernadette Gray-Little said the Selfs' legacy has been extended by the engineering leaders who benefitted from their fellowship programs and are now working around the world.
"Al Self was a visionary and true friend of the University of Kansas," Gray-Little said. "Together with Lila, he changed the lives of countless students."
Mossberg, who is preparing an address for Self's memorial service later this month, said his giving was driven by a desire to give back for the preparation KU gave him and to make sure future students were similarly, or better, prepared for success.
Among Self's KU honors are a Distinguished Service Citation from the university in 1997, a Distinguished Engineering Service Award from the engineering school in 2000 and recognition as a Life Trustee by KU Endowment in 2010.
A memorial service for Self will take place at 10 a.m. Jan. 26 at Rumsey-Yost Funeral Home, 601 Indiana St. in Lawrence.
Copyright 2018 The Lawrence Journal-World. All rights reserved. This material may not be published, broadcast, rewritten or redistributed. We strive to uphold our values for every story published.