Every member of Free State High's girls basketball team channeled her inner point guard and extra passes ruled the night Tuesday in the Firebirds' 66-21 thumping of Kansas City Washington.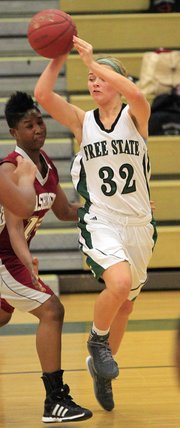 FSHS, which had lost back-to-back games, got back on track at home against the severely outmatched Wildcats by sharing the basketball like crazy and making a point to create open layups or jumpers through all four quarters.
Even without senior shooting guard Kennedy Kirkpatrick (partially torn left medial collateral ligament), the Firebirds passed out 24 assists on their 29 field goals with superb ball movement.
"The trick in a game like that," Free State coach Bryan Duncan said, "is we always preach if you overmatch your opponent, you really want to share the ball and focus on defense."
That approach began in the first quarter, when FSHS (6-3) had seven assists and made 10 of its 16 shot attempts — en route to a 21-3 lead — as Abbey Casady, A'Liyah Rogers, Scout Wiebe, Chelsea Casady, Summer Frantz and Millie Shade all converted at least one field goal in the first eight minutes.
Even though Washington (1-7) trailed the home team 33-9 at halftime, Duncan decided to entice the players to keep up their stellar passing in the game's final 16 minutes.
"We had a little game within a game going," Duncan revealed. "Whoever had the most assists (in the second half) was gonna get a burrito."
Rogers (six points, three assists) said the idea of a free Chipotle burrito, courtesy of the Free State coaches, worked.
"Once they said that," Rogers shared, "we just kept passing it better and looking for an open shot."
By the end of the 45-point victory, Rogers, Wiebe, Chelsea and substitute Ciara Carey each had a pair of second-half assists. Chelsea, a senior forward, might have taken the contest more seriously than anyone else. She looked a little annoyed when someone missed an open shot after one of her would-be dimes.
"The second half, I would pass it and everyone missed their layups. I didn't get as many assists as I wanted to," said Chelsea, who had team-highs of 15 points and five assists. "It should've been like eight, but whatever."
Her first-half assists put her over the top in a tie-breaker and Duncan deemed Chelsea the night's burrito-winner. She said the Firebirds had been focusing on quality possessions and they were pleased with the results against Washington.
"The extra pass helps shot selection a lot," Chelsea said, "so that's one way to make it easier on us."
None of Free State's players had much to stress about. It was the kind of game in which Wiebe (13 points, five rebounds) could get her shot blocked and run back on defense smiling because she genuinely was having a good time.
Said Rogers: "I think the highlight of the night was everybody getting a chance to play."
All 12 Firebirds played and 11 scored in the rout. With Kirkpatrick and senior forward Courtney Parker (out for the season with a torn labrum in her left shoulder) unavailable, some junior varsity regulars even got to contribute.
Free State's top seven — including Ariana Frantz, who replaced Kirkpatrick in the starting lineup — all scored in the first half. In the fourth quarter, substitutes Carey, Ilene Tolbert, Hannah Shoemaker and Hadyn Hutchison joined them. Shoemaker and Hutchison, the last two to see the floor, both hit three-pointers.
Rogers, Ariana and Shade each had three assists, Abbey, Wiebe and Carey had two apiece, and Summer, Tolbert, Hutchison and Lily Ross all had one helper. Eleven of Duncan's 12 players had an assist.
"Win or lose, it takes a full team," the coach said, "and I think it was a good thing tonight to get so many people involved."
Free State is idle until Jan. 24, when it plays host to the three-day Firebird Winter Classic.
Copyright 2018 The Lawrence Journal-World. All rights reserved. This material may not be published, broadcast, rewritten or redistributed. We strive to uphold our values for every story published.