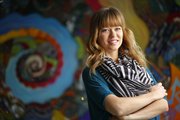 How to help
For more information on volunteering for Van Go, contact Kelsey Hunter at Kelsey@van-go.org or 842-3797.
When painter and sculptor Marie McKenzie was the same age as the teenagers she mentors through Van Go Inc.'s JAMS program (Jobs in the Arts Make Sense), her high school offered only one art class. She took it over and over again, starving for a chance to explore different art forms and experiment with new techniques.
That's one of the reasons McKenzie is so passionate about volunteering with Van Go, which provides art-based job training programs for at-risk youths ages 14 to 21. She knows firsthand how artistic expression can transform an adolescent's life and wants to help make the magic happen for the teens involved at Van Go.
"I can't help but want to light that fire in others," McKenzie says, explaining why she volunteers every Monday afternoon with JAMS artists, helping them develop the skills, experience and confidence they will need to become professionals who will be able to work easily with clients, meet deadlines and produce high quality work.
Before she even met the students served by Van Go, McKenzie fell hard for the social service agency's mission.
"I was really excited that Lawrence had such a gem," she said. "For it to be an organization that was deeply rooted in the arts, as well as beneficial to the community, I felt I had to get involved."
Since becoming a Van Go volunteer three years ago, McKenzie has contributed so much to the teens she serves that she was nominated for the United Way Roger Hill Volunteer Center's Wallace Galluzzi Outstanding Volunteer of the Year.
"Volunteering has made me a better person," McKenzie said. "It's taught me about patience and putting others in front of myself."
Her favorite part of the job isn't just seeing the final artwork completed by the students. It's witnessing the change in the students themselves through the course of the program. McKenzie remembers one JAMS artist who was withdrawn when she first came to Van Go. One day, McKenzie noticed the student struggling with something she was painting. McKenzie spent time with the student that day, helping her work through the challenges she was facing with her project.
"I just talked to her and helped her break it down in a way she understood," McKenzie recounts. "At the end of the day, she came up to me and said, 'Thank you, Marie! You really helped me,' and gave me a big hug. I realized, I helped her do that, and it felt incredible. Van Go changes people's lives, and I'm just happy to be a part of it."
One of the reasons Van Go is so successful at helping the high-needs students it serves avoid pitfalls like drug and alcohol abuse, teen pregnancy, truancy and depression is the relationship they build with volunteers like McKenzie, said Cathy Ledeker, Van Go's art director. "We have a very small staff that works very hard, and we could not begin to accomplish what we do without volunteer help. The kids become very attached to them."
You don't have to be a professional artist like McKenzie to volunteer at Van Go, said Kelsey Hunter, an AmeriCorps member serving at Van Go. You just have to be willing to invest in the lives of the students, serving as a role model as you demonstrate job skills like punctuality, commitment to quality and positive communication.

"We can make a difference in a young child's life," McKenzie said, "and at Van Go, it shows."
Copyright 2018 The Lawrence Journal-World. All rights reserved. This material may not be published, broadcast, rewritten or redistributed. We strive to uphold our values for every story published.